New Hardcover Edition: "Zephyr The West Wind" by 21 Yr Old Award-Winning Author RJ Tolson
"Zephyr The West Wind" Hardcover is a Must Read for Those Seeking Adventure to a Fantastical World Filled with Vivid Imagery and Heroism.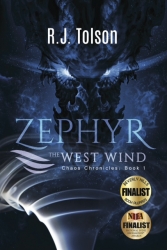 Washington, DC, October 14, 2014 --(
PR.com
)-- 21-yr-old
RJ Tolson
, the 2013 Beverly Hills Book Awards Finalist and National Indie Excellence Book Awards Finalist and Arlington, VA native, masterfully interweaves plots entailing demigods capable of transporting themselves to different universes in his recently released
Chaos Chronicles Book 1: Zephyr The West Wind
hardcover edition. Set in an ancient time on fictional universes with the threat of mythical and paranormal creatures, Zephyr The West Wind is a work of fiction which embodies mythology, historical fiction and magical realism. An adolescent's efforts to claim stature and acceptance; morally ambiguous characters whose lives illuminate issues of social status, betrayal, forgiveness, corruption, war and punishment; and, compelling family dynamics are also part and parcel of this science fiction & fantasy genre gem certain to captivate and enthrall young and young at heart alike.
While the story unfolds into a universe in which a powerful demon in the island of Dentro with just a howl could obliterate mountains, the heroic act of an outsider allows the chief of Dentro to destroy the demon and seal its dark power within three powerful ancient weapons: a spear, a shield, and a sword. After leaving what was an unwelcoming village, the man who helped destroy the demon took the sword in an effort to keep the village and its people safe.
Months later, a villager bore the son of the outsider. Carrying the child of a stranger was in violation of a sacred village law, and everyone knew whose child the boy was. Born into a village filled with hateful people, Zephyr grew up not knowing why he was so hated. With no friends, and eventually no family after the passing of his mother, Zephyr was forced to survive by himself as an outcast. Zephyr's only wish, to make his mother proud and force the village to recognize him--while surviving in a world filled with demons, paranormal abilities, love, hate, and undiscovered lands.
Orders of Chaos Chronicles Book 1: Zephyr The West Wind hardcover edition can be placed at
www.Amazon.com
. Additionally, RJ Tolson's recently released soundtrack,
Zephyr The West Wind Original Book Soundtrack,
inspired by events and scenes within Zephyr The West Wind, is also available for purchase at
Amazon Digital Music
and
www.Itunes.Apple.com
.
Contact
Woods & Associates Management Firm
Eloise Woods
866-862-1932
www.woodsandassociates.net/

Contact