Gulf Coast Resident Comes Out of Retirement to Help with the 2015 St. Jude Dream Home
80 year old Andy Vitali from Andy's Iron works in Long Beach, Mississippi, retired as a true craftsman in the ironworks business. In hopes of helping raise one million dollars for the St. Jude Children's Hospital, Andy came out of retirement to work on a special project for the 2015 Dream Home.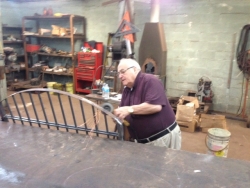 Gulfport, MS, October 23, 2014 --(
PR.com
)-- Andy Vitali joined the military at seventeen and a year later was sought out for failing to register for the draft. This true patriot only missed registration because he was already proudly serving in the United States Air Force and continued to do so for eight years.
Upon leaving the military Andy built a thriving business in California as one of the largest importers and distributors for ornamental iron in the country. After selling the business, Andy decided to return to the Mississippi Gulf Coast where he had served at Keesler Air Force Base and here he rekindled his passion for ironworks. He opened Andy's Ironworks in Long Beach, Mississippi and after thirty years in business Andy decided to retire and sold the business shortly after Hurricane Katrina.
Seeing the passion Elliott Homes has for developing a high level product and the impact of the St. Jude Dream Home campaign, after eight years Andy came out of retirement for a third time to help reach $1,000,000 for St. Jude on the 2015 Dream Home. Andy says he is, "happy to get back at the grinding wheel and lend a hand." It takes a lot of people to accomplish a great cause and if you ask him he will tell you, "If it were easy, everyone would do it." Here Andy is seen grinding a steel gate made for the pond in Malpass West, a subdivision created by Elliott Homes directed toward recovering St. Jude patients.
The pond area is located directly across from the 2015 St. Jude Dream Home. "We chose this specific lot for the dream home so that it could overlook the pond and St. Jude gates Andy so graciously created," says Brandon Elliott.
Malpass West is located off of Brasher Road in Biloxi, Mississippi. To visit the Dream Home to see the beautiful gates that Andy has so unselfishly contributed his time to make, take exit 44 south and follow the signs directly to the Dream Home.
The official giveaway drawing for the home will be on Saturday, April 18th.
About Elliott Homes
Established in 2009, Elliott Homes is a custom home builder providing the Mississippi Gulf Coast with unique designs for both affordable and high-end luxury homes.
In addition to receiving many awards for their home plans, including just this week a Best in Mississippi Award for their Essex Plan in Gautier, Mississippi, Elliott Homes has also been awarded the 2013 Talk of the Town Customer Satisfaction Award, 2012 Builder of the Year Award by the Home Builders Association of Mississippi as well as the Home Builders Association of the Mississippi Coast. Brandon Elliott was also honored to have been selected to build the 2012 St. Jude Dream Home. For more information about Elliott Homes, call 1-844-BUY-ELLIOTT or go to www.myelliotthome.com.
Contact
Elliott Homes LLC
Susan Siemiontkowski
1-844-BUY-ELLIOTT
www.myelliotthome.com
My direct number is 228-539-0300.

Contact