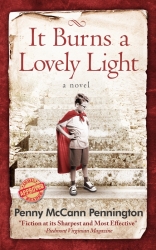 Pittsburgh, PA, November 13, 2014 --(
PR.com
)-- "It Burns a Lovely Light," Penny McCann Pennington's debut novel, received the highest possible rating from the 22nd Annual Writer's Digest Self-Published Book Awards. All entries were evaluated on a scale of 1 to 5, with 5 meaning "Outstanding." In the category of Mainstream / Literary Fiction, "It Burns a Lovely Light" received 5's across the board.
Excerpt from Judge's Commentary:
"It Burns a Lovely Light" is a lovely novel. Pennington captured my interest and imagination from the first pages. The characters were wonderfully drawn and I cared about them. I could see them, the good and the bad. The settings were presented in a way that I felt like I was there. The flavor and the dialogue was spot on! The story was a really good one, even the harsher parts and I could not wait to turn the page and read some more.
"It Burns a Lovely Light" is a novel about a (possibly-too-close) military family that implodes, leaving the eldest daughter to give up her plans of university to care for her autistic savant brother. They move to their aunt's falling-down boarding house overlooking the city of Pittsburgh as the city is recovering from the loss of its great steel industry. The funny, loving, eccentric members of the boarding house form a patchwork family, coming together in the face of the threat of foreclosure. At times hilarious, heartbreaking and dark, "It Burns a Lovely Light" grabs you from the first chapter, and won't let go until long after you've finished the book.
The novel has been called "Fiction at its Sharpest and Most Effective" by Piedmont Virginian Magazine. Indie Reader states "A Remarkably moving book with well-crafted characters and a strong, loving emotional center." Washington Post's Leonard Shapiro called Pennington a "Gifted writer" in an article featuring Pennington for Middleburg Life Magazine.
"It Burns a Lovely Light" has received numerous honorable mentions, including the 2014 New England Book Festival, 2014 New York Book Festival, 2014 Great Soutwest Book Festival, the 2014 Tucson Book Festival, and the 2014 Southeast Festival of the Book.
Pennington's novel can be purchased on Amazon, Kindle, Nook, Barnes&Noble.com, Goodreads, Scribd, and in select book stores in the United States, Europe, and Australia. You can find "It Burns a Lovely Light" on Facebook or on Pennington's Amazon Author's page:
http://www.amazon.com/s/ref=nb_sb_noss_2?url=search-alias%3Daps&field-keywords=it+burns+a+lovely+light+in+books