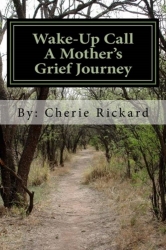 Baton Rouge, LA, November 14, 2014 --(
PR.com
)-- Pastor and Deputy/Chaplain Ken Spivey has seen more than his share of families struck by the sudden onset of grief because of the unexpected and tragic death of a family member, loved one, or child, but Spivey says he's not the least bit surprised by first-time author Cherie Rickard's inspiring and refreshing story as she tells it in "Wake-Up Call.... A Mother's Grief Journey – the call that changes your life forever."
"Wake-Up Call....A Mother's Grief Journey" announces release in both Print and EBook formats. Available for immediate access through Amazon and Barnes & Noble.
For direct Book Buy links go to:
www.triumphintragedy.com
.
Bryant Kite, Cherie's son, was a rising senior in the summer of 2007 – a great-looking young man, popular and outgoing, an honor student and a star baseball athelte at Cordova High School in Tennessee with major college baseball aspirations and thoughts of possibly becoming a doctor. But a freak one-car accident in the early-morning hours on that July 12th day changed more in the lives of friends and strangers than anyone would ever expected.
Inspirational & Motivation story how one Mom took her broken heart and wounded spirit to print and today gives hope and love to anyone who has lost someone. "We have all suffered loss or know someone who has and my book gives hope."
Rickard has dedicated her life to helping people turn tragedies like she lived through into triumph. "Wake-Up Call....A Mother's Grief Journey" does just that.
About the Author:
Cherie has seen her share of death as a RN and Medical Business Professional, but life took a drastic turn when she experienced the death of her own son. In addition to her RN title she is now a published author, speaker and business owner. She serves in honor of her son on the Bryant Kite Scholarship Foundation Committee, is a member of NAPW and became a Certified Grief Counselor. From her own experiences and years of education Cherie founded Triumph in Tragedy Foundation in 2014 and donates all book proceeds. She now devotes her life to helping people learn how to turn the tragedy of losing a loved one into a life of joy and fulfillment once again.
"We begin to heal when we help others and become blessed when we are a blessing."- Cherie
Contact Information:
Triumph In Tragedy Foundation
http://www.triumphintragedy.com
1-225-673-2714