SANS Inc. and Wayside Publishing Collaborate to Deliver On-Line Content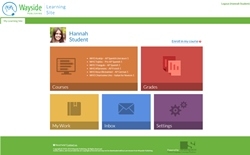 North Branford, CT, November 18, 2014 --(
PR.com
)-- A dynamic new on-line learning platform from world language publisher
Wayside Publishing
is now powered by SANSSpace™ from
SANS Inc
. The Learning Site™ has been customized by SANS Inc., developer of networked and cloud-based language learning technologies. The Learning Site will be highlighted this week at the American Council on the Teaching of Foreign Languages (ACTFL) Conference in San Antonio, TX.
A collaboration between SANS Inc. and Wayside Publishing has been forged to deliver relevant, 21st century language learning materials giving students, anytime, anywhere access to learning. The site provides tools for language educators to engage students and assess their progress.
Wayside Publishing's innovative and engaging programs enhance and strengthen language learning. Designed and gathered to inspire continued exploration, materials in the textbooks and in the Learning Site are both modern and relevant to students' lives. A wealth of textbook-integrated audio-visual activities and authentic resources provide indispensable practice in all four modalities. Developed by Wayside's exceptional team of educational authors, materials on the Learning Site will help students develop the necessary cultural and linguistic competence to communicate effectively.
The SANSSpace virtual platform from SANS Inc. was chosen as the technology framework providing access to Wayside's on-line content, and learning and teaching tools. SANSSpace includes a unique virtual digital comparative recorder, developed specifically to enable the language learner to compare side-by-side their verbal responses with native speakers to hear the differences and self-correct as they develop communication skills. Auto-graded quizzes, flashcards, and surveys engage students and enrich the learning experience. SANSSpace tracks student activity and interaction, giving educators continual oversight of student progress to help them meet individual learning needs.
According to Ron Remschel, SANS president, "Our core strength is providing the best instructional technology for teaching spoken and visual languages. Our development team has taken these competencies and provided an on-line solution for the rich world language content that Wayside provides. Working together brings the best of a technology solutions provider and a world language publisher together resulting in learning that actively engages students in 21st century skills."
"Developing high quality, affordably priced world language learning programs is our core competence, and leveraging the SANSSpace platform provides the Learning Site with cutting edge technology," said Greg Greuel, Wayside Publishing president. "The Wayside Publishing Team celebrates the development of the on-line Learning Site with SANS and looks forward to continued collaboration in delivering unprecedented language learning tools and resources."
SANS is a leading technology solutions company for language learning – FL, ESL, and ASL. Technologies include the SANSSpace™ virtual language learning platform and Virtuoso™ and Soloist® networked language lab software. SANS is committed to providing software solutions that address teaching and learning modalities and work within the IT framework of each individual school, business, or government agency. For more information, go to
www.sansinc.com
or
moreinfo@sansinc.com
.
Founded in 1988, Wayside Publishing has a proven history of delivering innovative teaching materials with personalized service. We continue that tradition today with a new emphasis on technological materials for modern students. Whether you order 5 books or 500, you'll get personal attention from Wayside Publishing. Our Customer Support Team fulfills your order in house, so we can easily adapt to your unique needs. Visit us at
WaysidePublishing.com
, or call us in the office at (888) 302-2519.
SANSSpace is a trademark of SANS Inc. Virtuoso and Soloist are trademarks of Sony Electronics and incorporate SANS and Sony technology. Learning Site is a trademark of Wayside Publishing.
Contact
SANS Inc. 21st Century Technology for Language Learning
Stella Derum
877-315-SANS
www.sansinc.com

Contact