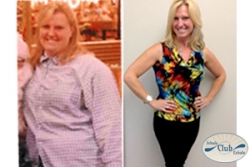 Billerica, MA, November 20, 2014 --(
PR.com
)-- Join Club Inhale/Exhale for the "14 Day Fat Furnace Challenge." The 14 day weight loss kickstart is open to anyone in the Billerica, Danvers MA areas, ages 18 and up.
The 14 Day Fat Furnace starts on Dec 8th, 2014.
Club Inhale/Exhale's pre-designed fitness program was created to fit your fitness level, and your schedule.
During the 14 day program you will have access to all Club Inhale/Exhale Fitness Classes, a meal design to fit your lifestyle and motivational email coaching. You do not have to be a member of the facility to participate in this program.
What you can expect from Club Inhale/Exhale's 14 Day Weight Loss Challenge in Billerica and Danvers?
You will start to drop pounds and inches just 14 days.
You will have 14 Day unlimited access to all Club Inhale/Exhale Fitness Classes.
You will receive a Pre and Post 14 Day Body Composition Assessment.
You will get a Nutritional Meal Plan to follow during your 14 days.
Coaches Michael & Kelly will have live Facebook Q & A sessions with your team every day of your 14 Day Fat Furnace.
You will have Inspiration from other members, motivation, support and access to Coaches Michael & Kelly from Club Inhale/Exhale
The cost for the 14 Day Fat Furnace program is $67 and you will receive all of the above.
Visit http://clubinhaleexhale.com/14-day-fat-loss-challenge-billerica/ for more information on this weight loss challenge.
Coach Michael states: "You'll experience some soreness in your muscles. It won't be too bad, but definitely a little soreness letting you know that you just had an awesome full-body workout."
Coach Kelly from Club Inhale/Exhale goes on to say that: "Our philosophy is totally against starvation diets so the nutritional guidance that you'll get is totally safe and very, very healthy. It's actually a decent amount of calories manipulated in a crafty way to help your body burn maximum fat and to retain muscle tone during the 14 days."
To lock in your spot just call 888-707-1102.
The 14 Day Fat Furnace starts on December 8th, 2014.
You're in the right place if you want weight loss and learn body and mind transformation ideas that actually work. If you want ideas on how to lose 5-100lbs, if you just want to know how to leverage your time and get healthy, create a more balanced life and find proven fitness and weight loss systems that drop weight off you like no one's business, then Club Inhale/Exhale is the place for you.
Contact:
Coaches Michael LoColle or Kelly LaCasse
Club Inhale/Exhale
Telephone: 888-707-1102
info@clubinhaleexhale.com
http://www.ClubInhaleExhale.com