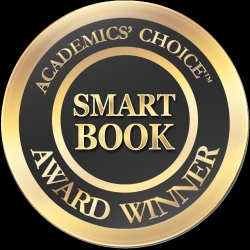 Greenwich, CT, December 02, 2014 --(
PR.com
)-- The SMART Playbook is pleased to announce that their children's educational book has been honored with a 2014 Academics' Choice Smart Book Award, a prestigious seal of educational quality, reserved only for the best mind-building media and toys. The independent Academics' Choice Awards program and its seal of excellence are recognized worldwide by consumers and educational institutions as a mark of genuinely effective learning tools that stimulate the mind, and provide potential for the student to fully develop higher order thinking skills.
The SMART Playbook is a winner of the Academics' Choice Smart Book Award in the book category. The Academics' Choice Advisory Board consists of leading thinkers and graduates from Princeton, Harvard, George Washington University, and other reputable educational institutions. Product-appropriate volunteer reviewers, combined with the brainpower of the Board, determine the coveted winners. Entries are judged by category (i.e. mobile app, toy, book, website, magazine, etc.), subject area, and grade level, and evaluated based on standardized criteria rooted in constructivist learning theory. The full list of winners is posted online at www.AcademicsChoice.com.
"We are very honored to receive the Academics' Choice Award in the Smart Book category! The SMART Playbook's goal is to educate our tech-savvy children on social skills and manners and to help them develop character and grow their confidence. We pride ourselves on emphasizing the importance of an old-fashioned topic with a modern, fun, and relatable style. This prestigious recognition and stamp of approval will, without a doubt, help us spread our message to families all around the world. Thank you," said Suzanne Wind, Author of The SMART Playbook.
About Academics' ChoiceTM:
Academics' ChoiceTM helps consumers find exceptional brain-boosting material. Academics' Choice is the only international awards program designed to bring increased recognition to publishers, manufacturers, independent authors and developers that aim to stimulate cognitive development. A volunteer panel of product-appropriate judges, including parents, educators, scientists, artists, doctors, nurses, librarians, students and children, evaluate submissions based on educational benefits such as higher-order thinking skills, character building, creative play, durability and originality. Only the genuine "mind-builders" are recognized with the coveted Academics' ChoiceAwardTM.
About The SMART Playbook:
The SMART Playbook is every parent's go-to solution to fix a growing problem in our tech-savvy generation – teaching them basic social skills and manners in this fast-paced digital world. Written in a relatable style and chock full of games, this activity book has been called the 'perfect solution' by educators and parents. Five Smart topics to help kids succeed in life and stand out for all the Right reasons: Social Skill Basics, Mealtime Manners, Art of Conversation, Restaurant Behavior and Technology Talk. Teaching children how to gracefully play the game of life in this modern world.