TIEMAC Bringing Advanced Telematics and Operational Business Intelligence Solution to the Trucking Industry
TIEMAC's CrewAccount platform is cloud-based and has been built on the industry's best technology stacks and will tap the Internet of Things (IoT) to be the most competitive offering in the trucking industry by helping optimize operations, lower costs and give real-time and remote views for trucking operations of all sizes.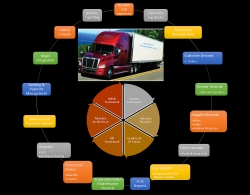 Atlanta, GA, December 09, 2014 --(
PR.com
)-- TIEMAC Corporation, has developed, and is bringing to market, its CrewAccount platform. The CrewAccount platform is an integrated, embedded and connected device, Internet of Things (IoT), real time advanced telematics solution for the trucking industry, particularly geared towards over the road trucking operations. The solution provides full operational and back office administration and is based on a Cloud Infrastructure Software as a Service mobile centric business model. Today, the company has announced that is bringing to market its CrewAccount solution with a strong ecosystem of partners that include Microsoft, OSIsoft, Intel, Verizon, AT&T, Telit, AU Electronics and others.
According to Michael Treasure, the company's founder and chief architect, TIEMAC has benefited significantly from its relationship with Microsoft through programs such as BizSpark Plus and Microsoft Ventures. Mr. Treasure continues to say that TIEMAC's CrewAccount solution is built on a significant portion of the Microsoft technology stack, including Windows Embedded Enterprise 8.1 used in the TIEMAC embedded IoT device. Microsoft Azure Intelligent Systems Services (ISS), Microsoft Azure cloud infrastructure, SharePoint and SQL server platforms. "At Microsoft Ventures, we have been happy to provide technical support and strategic guidance to TIEMAC," said Jim Brisimitzis, Senior Director of Microsoft Ventures. "As a company, our focus is on building solutions for a mobile-first, cloud-first world backed by intuitive devices and services. Major transformations are happening across the globe driven by technology, entrepreneurship, and innovation. We are proud to count TIEMAC as an agent of that transformation by offering an innovative solution built on our platforms."
There are several telematics and truck operations software solutions on the market to date. However, TIEMAC's CrewAccount solution will be the first advanced telematics solution in the "Over the Road" trucking space to utilize OSIsoft's PI System technology. OSIsoft, a global leader in operational intelligence, empowers the Industrial IoT through its enterprise data infrastructure. The PI System connects sensor-based data, operations and people in real-time to provide actionable insights, enabling optimized data-driven decision-making. Over 19,000 customer sites have benefited from performance improvements resulting from over 30 years of investment.
"OSIsoft is excited to be supporting Tiemac's on-highway truck applications as a customer and partner with a Connected Services Agreement," said Matt Miller, Transportation Industry Principal at OSIsoft. "Our manufacturing customers rely on on-highway trucking to transport raw materials and finished goods in their diverse multi-modal supply chains. By embedding OSIsoft's industry leading operational intelligence software technology in their CrewAccount Solution, Tiemac delivers a comprehensive truck management system to fleet owners that provides real-time actionable insights into their operations. The near-instantaneous data-driven decisions afforded by this novel combination of technologies enables continuous optimization of geographically dispersed and mobile assets for maximum ROI. When combined with operational intelligence from the rest of the business, end-to-end optimization becomes a reality for even higher returns."
"Telit is pleased to be working with TIEMAC to help bring the CrewAccount solution to market," says Mike Ueland, President, Americas for Telit. "The Telit 4G LTE and GPS modules will enable TIEMAC to most effectively service the company's customers through better communications over both the Verizon and AT&T 4G LTE networks across North America."
The CrewAccount offering will provide a single infrastructure solution to deliver IoT system management solutions with safe and secure data collection for improved monitoring and control, and predictive maintenance of trucking assets. The CrewAccount offering additionally includes front office operational modules, including dispatch, load management, IFTA reporting, Intelligent GPS routing, driver management, electronic onboard recording for electronic log book that meets DOT requirements and a full accounting suite leveraging Microsoft's Dynamics GP 2013 ERP suite.
According to Don Harroll, TIEMAC's board member and consultant of business and partnership development, TIEMAC's CrewAccount solution will be revolutionary in the over the road trucking space. Mr. Harroll continued by saying "The CrewAccount solution will be second to none in the market place for real time operational and back office administration cloud based SaaS mobile centric advanced telematics for the trucking industry, particularly geared towards over the road trucking operations. The CrewAccount solution will scale from small owner operator fleets, 1-50 trucks in a fleet, to large fleet operations with thousands of trucks in a fleet. Most importantly, the solution will be affordable and allows our customers to utilize the features that best meet their business needs in optimizing their operations, minimizing cost and increasing their revenues and bottom lines."
Michael Treasure, the company's CEO, says that "TIEMAC will be rolling out its CrewAccount solution in early January 2015 starting with a set of Beta customers it has already secured. "We are very excited about the future for CrewAccount in meeting the needs of our customers and for the caliber of industry partners we have secured as part of the TIEMAC partner eco system and our SaaS CrewAccount Solution. In our quest to address the Internet of Things, Cloud and mobile centric world to deliver innovative solutions and services to our customers. We believe that TIEMAC will be a significant solutions provider in the advanced telematics for the commercial vehicle space." For additional company information, visit: www.Tiemac.com or email: SocialMedia (at) Tiemac.com.
Contact
TIEMAC
Michael Treasure
800-940-9633
www.Tiemac.com

Contact