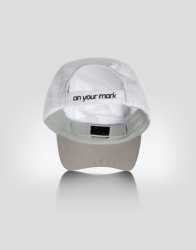 Dallas, TX, December 09, 2014 --(
PR.com
)-- Spree Wearables, maker of the world's smartest fitness monitor, announced today that it has entered into an exclusive North American agreement with Harrisburg, PA-based D&H Distributing, the nation's leading technology distributor.
D&H will be seeking retail and reseller distribution partners for both the Spree SmartCap and Spree fitness monitor. The cutting-edge products are already available on Amazon, Brookstone.com and SpreeWearables.com.
"This is a major step for our product and we are thrilled to partner with D&H to bring our game-changing technology to retailers across the continent," said Peter Linke, president of Spree Wearables. "The Spree SmartCap offers more fitness monitoring capability than virtually any other product on the market, while setting athletes free from their uncomfortable chest straps."
Recognized as a "Best in Show" product by Sports Illustrated at the 2014 International Consumer Electronics Show in Las Vegas, Spree is the first and only fitness device that tracks heart rate without the use of a cumbersome chest strap, and monitors body temperature, movement and a variety of additional metrics as well. The Spree SmartCap is so easy to use and comfortable, it does what most wearables fail to do: It becomes a natural extension of the athlete's body.
"Spree is exactly the kind of revolutionary product that excites everyone at D&H and in the marketplace, because we recognize its potential to completely drive its category," said Rob Eby, vice president of purchasing at D&H. "Wearable technologies are truly gaining momentum in the fitness space, and we are proud to offer Spree's high-quality line of products. The Spree SmartCap isn't just a major advance in monitoring technology, it offers a level of comfort that will differentiate it from other offerings for our dealers and resellers."
Spree communicates seamlessly with the two most popular smartphone platforms. Users need only pair the monitor with a Bluetooth Smart-enabled device running iOS Version 7 or Android Version 4.4 or higher.
Developed by Dallas-based Spree Wearables, Inc. (formerly Hothead Technologies, Inc.), the Spree SmartCap stands apart from other fitness monitors by analyzing the three most important variables in every fitness routine – body temperature, movement and heart rate – all in one easy-to-use device. The unique design measures directly from the forehead using medical grade technology. The SmartCap also insulates from the sun, and because the device measures temperature as an added component, it provides a true measurement of caloric burn along with heart rate.
About Spree Wearables
Based in Dallas, Texas,
Spree Wearables
(formerly Hothead Technologies, Inc.) is a leading provider of wireless biosensor solutions, including the revolutionary Spree SmartCap. Its patented and proprietary systems are at the forefront of performance measurement systems and are currently used to help prevent heat-related illness in athletes, firefighters and industrial workers. Spree Wearables is a wholly owned subsidiary of IDENTEC Group AG. Spree Wearables' solutions have earned national recognition, including Popular Science magazine's prestigious "Best of What's New" Award.
About IDENTEC GROUP
IDENTEC GROUP is a leading, advanced wireless solutions provider that capitalizes and grows companies in global business-to-business and business-to-consumer wireless markets. Recognized worldwide for its patented, award-winning wireless solutions in a multitude of industries, IDENTEC GROUP member companies develop and market innovative wireless solutions that identify, measure, track and trace assets and people across the value chain, delivering actionable information through the cloud. IDENTEC GROUP works with its member companies on issues ranging from capitalization and development of business models and strategies to operations and shared technology, sourcing efficiencies and mutual customer relationships. For more information, visit identecgroup.com.
About D&H Distributing
As the nation's leading technology distributor, D&H provides a wealth of resources to empower the dealer, retailer, installer and reseller channel, delivering a broad selection of categories, products and applications. The company's offerings span the areas of consumer electronics, mobility, home entertainment, home networking and automation, small office/home office, video surveillance, digital imaging, video gaming, sports and recreation, home and outdoors and more. D&H's multi-market expertise, account-dedicated sales teams, sterling service and flexible financing options are unmatched in the industry.
With an impressive 96-year history serving as a trusted advisor to the consumer electronics supply channel, D&H has been able to consistently reinvent itself based upon changing market conditions. The company prides itself on creating business partnerships with an astute focus on ease-of-doing-business, relationships, value, performance and service.
D&H ships out of five separate locations in North America, including its US headquarters in Harrisburg and its Canadian headquarters in Brampton, Ontario. Additional US warehouses are located in Atlanta, GA; Chicago, IL; and Fresno, CA. Call D&H toll-free at (800) 340-1007 or visit www.dandh.com.