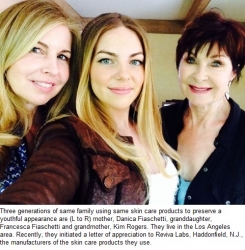 Haddonfield, NJ, December 12, 2014 --(
PR.com
)-- Three generations of a California family are marking almost 46 years of a family tradition of practicing skin care health -- and beauty -- and credit Reviva Labs natural skin care products as their skin-care secret.
The grandmother, daughter and granddaughter are Kim Rogers, Danica Fiaschetti and Francesca Fiaschetti.
The family's 80-year-old matriarch is Kim Roger's, of Beverly Hills, California. As a single mother, she raised five children. She is a former professional model.
She remains in the public eye, working as a dealer of 18th and 19th century art.
Her daughter, Danica Fiaschetti, a Los Angeles resident, is a nurse in the oculoplastic surgery department at UCLA.
She has written and had published numerous papers on cosmetics fillers.
Granddaughter, and daughter, Francesca Fiaschetti, grew up in Beverly Hills, California.
She recently graduated from UC Berkeley.
She is pursuing a career as a professional singer, and has been a semi-finalist in the Italy X Factor TV show.
Danica recently initiated a letter of thanks to the personnel at Reviva Labs of Haddonfield, N.J., for being the catalyst and source of all-natural skin-care products which have helped maintain their family's youthful appearances.
Reviva Labs is known nationally for its ingredients research, and 40 years of skin treatment experience.
Grandmother Good Example
Francesca told the Reviva personnel, "When I was younger, I would watch my grandmother put on her makeup. She was so elegant -- and still is -- and had the most beautiful skin. And still does.
"I sampled everything she used, probably the entire Reviva line."
To this day, she says, "I use their light skin peel, and the seaweed body soap."
Free Information
Many of Reviva's products are explained in a free "Beauty News" brochure.
Contact Reviva Labs, Inc. at 1-800-257-7774, or see www.RevivaLabs.com.
Note to Editor: For a free sample of Reviva Labs "Beauty News" brochure, contact: Elena Cruz, American News Services, at 29 Bala Ave., Ste. 114, Bala Cynwyd, PA 19004; Tel.: 484-562-0060; E-Mail: adcomtimes@aol.com.