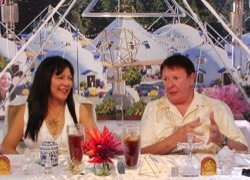 Kelseyville, CA, December 24, 2014 --(
PR.com
)--
H.H. Buddha Maitreya the Christ and his wife, Mandarava Tara
have been jointly recognized by the 2014 Dr. Ambedkar International Buddhist Award for their ceaseless work to further world peace through practicing dharma activities and spreading the teachings of Buddhism for the collective betterment of humanity.
Since 1994, together the pair has supported the renewal and restoration of sacred sites across Nepal, India and Tibet: rebuilding Tibetan monasteries in Dema and Litang, Tibet; constructing new prayer halls at several Khamtsen colleges within Drepung Loseling Buddhist University, India; and establishing The Great Namgyal Stupa for all Tibetan refugees and ex-political prisoners in Dharamsala.
The couple has also established the Church of Shambhala Vajradhara Maitreya Sangha and constructed Buddha Maitreya the Christ's Shambhala Planetary Monastery located in Kelseyville, California. The monastery is built using the principles of sacred geometry and environmental sustainability to heal the nations and the Earth. Nearby is Buddha Maitreya's Shambhala Life Extending Wellness Center where people from all walks of life can use Shambhala Healing Tools and come for other beneficial health treatments.
To learn more about H.H. Buddha Maitreya the Christ, please join his live, online teaching and meditation this Sunday, December 28. Register at www.buddhamaitreya.org and participate from anywhere in the world. Buddha Maitreya the Christ explains, "Simply by doing the OM, we are co-creating and sponsoring the process of God's creation and allowing ourselves to become witnesses of the revelations of God's everlasting work, God's love, and God's support towards all of us."
In 1996 His Holiness Buddha Maitreya established the Church of Shambhala Vajradhara Maitreya Sangha, a 501c(3) non-profit American Buddhist Church, offering the opportunity for western students to lead more spiritual and service orientated lives. The Church represents both East and West and the tenets of Christianity and Buddhism, with charitable activity and harmlessness as the fundamental teachings. Around this time, Buddha Maitreya also started up the registered charity "The New Group of World Servers Trust" and a Dharma Center in Glastonbury, UK. For more information, please contact (877) 444-7685 or The Church of Shambhala Vajradhara Maitreya Sangha, PO Box 961, Kelseyville CA 95451.