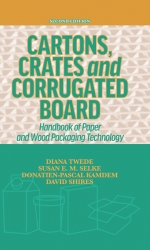 Lancaster, PA, January 12, 2015 --(
PR.com
)-- Ten years ago, the first edition of "Cartons, Crates and Corrugated Board" quickly became the standard reference book for wood- and paper-based packaging. Endorsed by TAPPI and other professional societies and used as a textbook worldwide, the book has now been extensively revised and updated by a team formed by the original authors and two additional authors. While preserving the critical performance and design data of the previous edition, this second expanded edition offers new information on the technologies, tests and regulations impacting the paper and corrugated industries worldwide, with a special focus on Europe and Japan.
New information has been added on tests and novel designs for folded cartons, as well as expanded discussions of paperboard selection for specific applications, emerging barrier packaging, food contact and migration, and the dynamics and opportunities of corrugated in distribution systems. Recent developments on recycling and sustainability are also highlighted.
Some of the highlights of the book include:
* New expanded second edition with key technical, regulatory and marketing developments from the past 10 years in the packaging industry
* Covers the materials, processes, and design of virtually all paper and fiberboard packaging for end-products, displays, storage and distribution
* New information on European and global standards, selection criteria for paperboard, as well as emerging sustainability initiatives
* Explains recent tests, measurements and costs with ready-to-use calculations
Chapters include:
- From Trees to Lumber
- Structure and Properties of Wood
- Wooden Containers
- Wooden Pallets
- Making Pulp
- Fabrication of Paper and Paperboard
- Paper, Paperboard, and Corrugated Board Properties and Tests
- Paperboard: Folding Cartons, Set-up Boxes, and Beverage Carriers
* Cartons, Crates, and Corrugated Board: Handbook of Paper and Wood Packaging Technology
* ISBN: 978-1-60595-135-5, January 2015, 584 pages, 6x9, hardcover, Price: $184.50.
*Go to the DEStech Publications online bookstore to purchase at a $25.00 discount.
DEStech Bookstore
About DEStech Publications:
Founded in 2001, DEStech Publications, Inc. publishes original books, textbooks, CD-ROMs, eBooks, proceedings, and refereed journals in advanced technology and engineering. To specialist authors and editors in technical disciplines, DEStech Publications offers a combination of high-level editing, excellent review procedures, and royalties with state-of-the-art book and journal production and global marketing. For societies and conference organizers, DEStech produces custom books, CD-ROMs and flash drives for meetings and congresses worldwide...on time and on budget..go to
www.DEStechPub.com
for additional information.