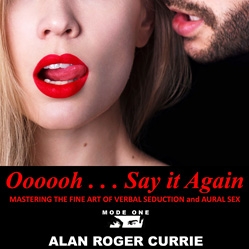 Hollywood, CA, January 27, 2015 --(
PR.com
)-- Are you a single heterosexual man who has 'strong verbal game' with women?
If not, there is a new audiobook that proposes to help you improve your overall conversation skills with women, and specifically, advises you on how to make your manner of verbal expression become more confident and highly self-assured, more provocative, and more persuasive and seductive.
The new audiobook is entitled "Oooooh . . . Say it Again: Mastering the Fine Art of Verbal Seduction and Aural Sex" which was written and narrated by Book Author and Professional Dating Coach Alan Roger Currie.
"Say it Again" is the third installment in what Currie refers to as his 'Self Development Trilogy' of audio books that will be available for listeners on Audible.com and Amazon.com in the category of Self Development.
In the three audio books released by Currie since July 2014, the author places all women in today's dating scene into four general categories:
- Reciprocators (i.e., women who are upfront and straightforwardly honest with men about the fact that they are attracted to them, and have a desire to share a man's company in a romantic or intimate manner)
- Rejecters (i.e., women who are upfront and straightforwardly honest with men about their lack of attraction and lack of interest in sharing a man's company in a romantic or intimate manner)
- Wholesome Pretenders (i.e., women who initially present themselves to men who they are attracted to as prudish, monogamy-oriented 'good girls,' but later on, tend to reveal to men who they are intimate with that they possess a side to their personality that is more open-minded, free-spirited, and erotically uninhibited)
- Manipulative Timewasters (i.e., women who give men the misleading impression that they have a desire to share that man's company in a romantic or intimate manner, but in reality, these women are more so looking to engage in a series of social interactions with a man that are nothing more than purely platonic in nature)
Currie's first audiobook, "Mode One: Let the Women Know What You're REALLY Thinking" was one of the best-selling audio books in the category of Self Development in August 2014, and laid out the foundation for the author's unique assertions and philosophies regarding how men should verbally communicate their romantic and intimate desires, interests, and intentions to women of interest in their very first conversation with a woman.
Currie's second audiobook, "The Possibility of Sex: How Naive and Lustful Men are Manipulated by Women Regularly" was released in November 2014 and is currently one of the best reviewed audio books on Audible.com with nothing but five-star ratings to date. This audiobook centers on helping men quickly and effectively identify women who fall into Currie's 'Manipulative Timewaster' category.
Currie's third audiobook highlights how the author earned his popular nickname, 'The King of Verbal Seduction,' and describes how a lot of his behavior rivals the erotically dominant and seductive interpersonal communication style of the fictional character of 'Christian Grey' in E.L. James best-selling erotica romance novel, "Fifty Shades of Grey."
Currie said that many of his female acquaintances and former companions have quite frequently compared him to the character of Grey since 'Fifty Shades' was released in March 2012. Currie said that he has also been frequently compared to another fictional character with the last name 'Grey' - James Spader's character of 'E. Edward Grey' in the 2002 film, "Secretary" - as well as Mickey Rourke's character of "John Gray" in the 1986 film, "9 1/2 Weeks."
Currie's latest audiobook is divided into two parts, with Part One offering Currie's unique brand of advice to single heterosexual men in five chapters designed to teach male listeners the basics of women's sexual psychology and giving men tips on how to identify the 'Wholesome Pretender' types in their first conversation with a woman.
Part Two features six 'Verbal Seduction Stories' that are based on Currie's real-life experiences interacting with women over the span of his adult life. Part Two also features a number of the author's real-life female acquaintances who act as vocal actresses and voice-over artists for the various stories.
Currie points out that the most important technique a man can learn is to persuade a woman to allow him to converse with her in what the author refers to as a woman's "Left Ear Zone" using a half-whisper tone of voice.
Interested listeners who have never purchased an audio book on Audible.com before can actually download one of Currie's three audiobooks for free when they sign up for a no-obligation 30-day Trial Membership on the site.
Currie was born and raised in Gary, Indiana and graduated from Indiana University in Bloomington, Indiana. Currie is a public speaker and Professional Dating Coach who has conducted workshops with single heterosexual men in many major cities in the United States as well as London, England and Berlin, Germany.
Currie is available for magazine, newspaper, radio and television interviews.
For more information about Currie and his books, please visit http://www.modeone.net/media/alanrogercurrie/