Everbrite, LLC Names Don Marshall as Director of Indoor Product Sales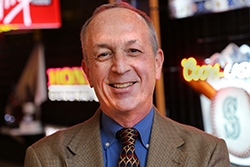 Milwaukee, WI, January 27, 2015 --(
PR.com
)-- Everbrite, LLC, a longtime industry leader in the manufacturing of custom branded Point of Sale (POS) signs and displays, is proud to announce Don Marshall as Director of Indoor Product Sales.
"I am very pleased to announce that Don Marshall has accepted the newly formed position of Director of Indoor Product Sales," stated Jay Jensen, VP of Sales & Marketing. "This new business unit will build off of our award winning creativity, core technology skills and broad manufacturing expertise to grow this important part of our business into new market segments." Don's background includes a Bachelor of Science degree in Industrial Design from the University of Cincinnati and Master of Business Administration degree from Case Western Reserve University. He had over 20 years of retail creative and merchandising experience with American Greetings Company before joining the Everbrite Sales Group in 2004.
In his new role, Don will be responsible for meeting the sales and marketing objectives for indoor products produced by Everbrite, including custom branded LED, neon signs, backbar displays, tap handles, retail open signs, lottery signs, vacuum-formed illuminated/non-illuminated semi-permanent displays and seasonal signs. He will also spearhead the introduction of new indoor POS products and the expansion of customer relationships in new markets based upon Everbrite's award winning customer service and reputation for building high-quality products.
Headquartered in Greenfield, WI, Everbrite is a worldwide leader in the design, engineering and state-of-the-art manufacturing of indoor and outdoor illuminated signs, menu systems, specialty medical lighting and scoreboards. Founded in 1927 by Charles Wamser, Everbrite is a privately held, Women's Business Enterprise (WBE) member serving companies of all sizes, including Fortune 500 and other widely recognized brands.
Contact
Everbrite, LLC
Jim Flanagan
414-529-3500
www.everbrite.com

Contact