Family-Owned FantasyAces Becoming Daily Fantasy Sports Powerhouse
Southern California DFS web site making big waves with live championship events.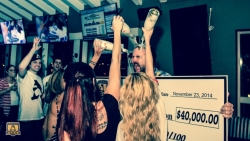 Aliso Viejo, CA, February 09, 2015 --(
PR.com
)-- FantasyAces.com, a leading daily fantasy sports provider based in Southern California, is capturing the attention of DFS players nationwide with live event contests for big cash prizes.
A family owned company founded in 2012 by patriarch and Executive Chairman Tom Frisina and sons Trent and Bryan, FantasyAces has quickly become one of the most recognized brands in daily fantasy sports.
In 2014, FantasyAces was one of only three daily fantasy sports web sites to host a live football championship event, and it was the first DFS operator to announce a live basketball championship event for 2015.
The $100,000 FantasyAces Football Championship featured a series of one-day online qualifying events throughout the NFL season, culminating in a live event final with 13 people from throughout the United States competing for a $40,000 grand prize at American Junkie sports bar in Newport Beach, Calif., on November 23, 2014.
Thousands of daily fantasy football players attempted to qualify for the live final event, which included airfare for two, lodging at the luxurious Balboa Bay Resort & Spa, a Newport Harbor cruise aboard a 100-foot private motor yacht and the action-packed live finale.
Dr. John Lee, a senior research scientist for Janssen Pharmaceuticals, used his finely-honed analytical skills to select the winning roster and claim the $40,000 first-place check. Industry insiders consider the North Wales, Penn., resident to be an elite DFS player.
The success of the live football final carried over to the $100,000 FantasyAces Basketball Championship. Qualifying for the FABC began in December, with a series of one-day salary cap-based NBA tournaments featuring brackets of 200 or more players each week. The winner of each qualifier earns a ticket to the final event final on April 4, 2015.
"The energy at our live NFL final was incredible," said co-founder Trent Frisina. "There was definitely a championship atmosphere, and with $100,000 in cash prizes at stake, every point mattered. It was a great time for our players and a huge success for FantasyAces."
The company's FABC qualifiers have sold out each of the last seven weeks. When asked to explain the lure of the live events, FantasyAces co-founder Bryan Frisina explained that the prospect of being treated like a star athlete is as big a draw as the cash.
"Of course the prize money is a significant motivator," explained Bryan, "but the once-in-a-lifetime experience we provide is equally important. We treat our players like superstars because they beat of thousands of people to qualify and they're the best of the best. For that weekend, they enjoy the lifestyle of their favorite athletes. Everybody loves being treated like a champion."
Click here for FAFC live event highlight video:
http://bit.ly/FAFCvid
Founded in 2012,
FantasyAces.com
is a leading daily fantasy sports web site located in Aliso Viejo, Calif., offering one-day salary cap-based contests for football, baseball, basketball and hockey. Players compete in a range of game formats for real cash prizes, free of the long-term commitment associated with seasonal fantasy sports. A member of the Fantasy Sports Trade Association, FantasyAces is one of the fastest-growing sites in the DFS industry. Daily fantasy sports contests are legal in most U.S. states and FantasyAces operates in compliance of all related federal and state regulations.
Contact
FantasyAces
Aaron Crecy
(949) 540-6754
www.fantasyaces.com

Contact