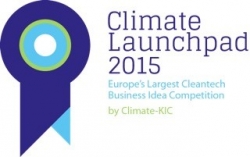 London, United Kingdom, February 23, 2015 --(
PR.com
)-- Europe's largest cleantech business idea competition kicks off second edition.
ClimateLaunchpad 2015 (formerly known as CleanLaunchpad) is now open for applications. Students, start-ups, entrepreneurs, researchers and employees dreaming of starting their own business are invited to submit their cleantech ideas. All entries are judged on their impact on climate change, their growth potential and on skills and enthusiasm.
The most promising entries gain access to the Climate-KIC Accelerator, geared at growing big cleantech ideas into strong businesses. The competition is now open for entries in 23 countries.
Climate-KIC is the EU's main climate innovation initiative.
The competition
A two-day business boot camp and a series of focused coaching sessions prepare the participants for the country finals where they will pitch their business plan to a professional jury. The three finalists of each country will enter the European Final in September in the Netherlands. In semi-finals, 8 teams will be selected and gain access to Climate-KIC Accelerator, the real-life business school focused on developing and commercialising cleantech start-ups. The overall winner of the European final also receives a cash prize of €10,000, the runner up gets €5,000 and the idea that comes in third place wins €2,500.
Frans Nauta, Deputy Director Entrepreneurship Climate-KIC:
"We see great opportunities for innovative businesses to combat climate change. This competition helps gathering the best ideas and connects people in the pan-European Climate-KIC network of entrepreneurs, universities, companies and investors. Together we shape the world's next economy."
Application deadlines
The competition is open to participants based in Austria, Belgium, Cyprus, Denmark, Estonia, Finland, Germany, Greece, Hungary, Iceland, Ireland, Italy, Latvia, Lithuania, the Netherlands, Norway, Poland, Portugal, Romania, Slovenia, Spain, Sweden and the United Kingdom. Application deadlines per country are available on the ClimateLaunchpad website (www.climatelaunchpad.org).
Pim Janssen, runner up in the 2014 competition and co-founder of Desolenator about ClimateLaunchpad: "Winning a competition with your start-up is one thing, but winning ClimateLaunchpad is something completely different. It creates a very real chance of turning your start-up into a success, with all the expert support you could possibly hope for."
About Climate-KIC
Climate-KIC is the EU's main climate innovation initiative. It is Europe's largest public-private innovation partnership focused on mitigating and adapting to climate change. Climate-KIC consists of companies, academic institutions and the public sector.
Climate-KIC is one of the partnerships created in 2010 by the European Institute of Innovation and Technology (EIT), the European Union body that fully integrates the knowledge triangle of business, education and research by forming dynamic cross-competency partnerships – Knowledge and Innovation Communities (KICs). KICs develop innovative products and services, start new companies, and train a new generation of entrepreneurs.
Climate-KIC has its headquarters in London, UK, and leverages national and regional centres across Europe to support start-up companies, bring together partners on innovation projects and to educate students to bring about a connected, creative transformation of knowledge and ideas into products and services that help mitigate and adapt to climate change.
Climate-KIC currently has centres in France, Germany, The Netherlands, Switzerland, the UK and a Nordic centre in Denmark with regional centres in Valencia, Spain; Central Hungary; Emilia Romagna, Italy; Lower Silesia, Poland; Hessen, Germany; and the West Midlands in the UK.
http://www.climate-kic.org
About the European Institute of Innovation and Technology (EIT)
The European Institute of Innovation and Technology (EIT) is an independent body of the EU; set up to address the EU's innovation paradox. Europe has a lot of top-notch publicly funded research, while the translation of knowledge into innovation that can be marketed and be commercially successful creating growth and jobs is seriously lagging behind. And that's where the EIT comes in.
The EIT has a unique role in increasing European sustainable growth and competitiveness by reinforcing the innovation capacity of the EU within a dynamic and shifting global context. EIT brings unique Europe-wide and large-scale development of competences and capacities to boost entrepreneurial innovation and accelerate market uptake of innovation outcomes.
The EIT is showing increasing results in this area, which in addition have a multiplier effect of 1-3 for every euro invested due to the EIT's smart investment strategy which combines 25% investment from the EIT with 75% investment from the KIC partnerships. This leveraging and pooling of resources is the first for an EU body.
To date, the EIT's KICs bring together more than 650 leading partners from business, research and higher education from all over Europe, for the first time fully integrating business, research and higher education. The first three KICs: Climate KIC, EIT ICT Labs and KIC InnoEnergy were selected in 2009. EIT Health and EIT Raw Materials are the latest KICs selected in December 2014. The EIT will launch the next call for KIC Proposals in 2016, focusing on Food4Future and Added-value Manufacturing with a further call tentatively planned for 2018 to address Urban Mobility.
http://eit.europa.eu