Osterman Research Finds Most Organizations at Significant Risk from Use of Consumer File Sync and Share Tools
Most organizations allow the use of consumer file sync and share tools, putting them at significant risk of data loss.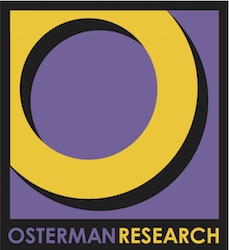 Seattle, WA, February 24, 2015 --(
PR.com
)-- There are a large and growing number of file sync and share tools that are offered by a variety of cloud providers. Most of these tools work as advertised – they provide users with several gigabytes of cloud storage and allow them to synchronize any file across all of their desktop, laptop and mobile platforms automatically.
And that's a serious problem: these tools allow any file to be synchronized across any device by any corporate user without the oversight or control of that user's IT function. This means that corporate financial information, employee records, customer financial information, embargoed press releases, and any other sensitive or confidential information can be synchronized to any user's device without first being encrypted, without an audit trail established to track the data, without an ability to prevent critical information from being modified, without any control over who has access to this data, and without any control over where and by whom that data is stored. This creates enormous legal, regulatory, privacy and other risks for an organization that allows these tools to be used.
Osterman Research conducted an in-depth survey exploring this problem and produced a white paper with actionable advice about why and how organizations should implement an enterprise-grade file sync and share solution to reduce their risks of data loss. The white paper can be downloaded
here
.
About Osterman Research, Inc.
Osterman Research provides timely and accurate market research, cost data and benchmarking information to technology-based companies. We do this by continually gathering information from IT decision-makers and end-users of information technology through in-depth surveys. We report and analyze this information through white papers and Webinars to help companies develop and improve the products and services they offer to their current and prospective customers. For more information, please contact us at www.ostermanresearch.com, at +1 253 630 5839, or connect with us on Twitter at @mosterman.
Contact
Osterman Research, Inc.
Michael Osterman
+1 253 630 5839
www.ostermanresearch.com

Contact