Tachyon Delivers Zero Touch Mobile Device Configuration and Deployment with Samsung Bulk Enrollment Program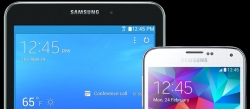 Reston, VA, March 02, 2015 --(
PR.com
)-- Kaprica Security Inc., experts in mobility and security, announced the release of the latest version of Tachyon™, their mobile device configuration and deployment solution. This new release includes support for Samsung's new Bulk Enrollment Program (BEP). Kaprica is demonstrating Tachyon and the new capability at the Samsung booth in Hall 8.1 at the Mobile World Conference (MWC) in Barcelona, Spain.
The Tachyon solution consists of an Android app and a cloud-based administrator portal used in government, finance, healthcare, retail and field services organizations for configuration or reconfiguration Samsung mobile devices at scale. At its core, Tachyon enables 1-touch, automated configuration and provisioning of mobile devices that is authenticated from an email or Quick Response (QR) code.
The new Samsung BEP support in the latest Tachyon release allows 0-touch automated configuration of critical system settings, Mobile Device Management (MDM) software, third party applications or Samsung's KNOX™ capabilities. Additionally, Tachyon has been able to leverage the recent BEP integration to facilitate 0-touch enrollment of MDM agents that have otherwise not chosen to automate their enrollment process.
"We are very excited by the possibilities that Samsung's BEP offers for our customers," explains Doug Britton, Kaprica Security's CEO. "Tachyon can already cut the time of enterprise kitting and provisioning from 30+ minutes to 2 minutes per mobile device. With BEP and Tachyon, the device can be ready to use right out of the box."
"Tachyon offers a unique capability in the market. The 1-click and now 0-touch BEP deployment and customization of Samsung devices dramatically bolsters the overall rollout process at scale," said Nick Rea, vice president of Technical Solutions at Samsung Electronics America. "It's truly a game changer and is raising a great deal of interest in government and industry verticals. We're excited about the positive impact Tachyon will have on our customers deploying thousands of Samsung devices."
Historically, most enterprise kitting and provisioning of mobile devices was carried out manually, or was partially automated using simple tools and the limited configuration capabilities of MDM software. Typical enterprise rollouts involve 100s to 1000s of users and often 100 or more manual steps, covering everything from configuring organizational backgrounds, sophisticated networking and security setup, to installing custom apps, MDM or Samsung KNOX. The Tachyon app and trial Tachyon portal accounts are available from Kaprica or authorized resellers.
Kaprica Security Inc. is an expert in mobility and security, providing hosted and on-premise solutions. Kaprica was founded in 2011 by a team of cyber security experts from Lockheed Martin and Carnegie Mellon University, with the goals of delivering high quality cyber security services to a wide government and enterprise audience, and simultaneously developing easy to use and deploy software tools to support them. Today, clients range from DARPA, to the Department of Transportation, Lockheed, Intel and the University of Maryland. Kaprica is a Silver-Level Samsung partner and its enterprise software products include the Skorpion™, Tachyon™ and RunSafe™ lines and associated patents. Kaprica is headquartered just outside Washington, DC, in Reston, VA, with offices in Austin, TX. Learn more at
www.kaprica.com
.
Contact
Kaprica Security Inc.
Simon Hartley
+1 (202) 430-6680
kaprica.com

Contact