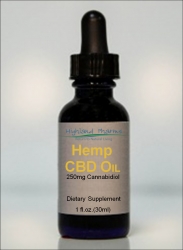 Marble Falls, TX, March 05, 2015 --(
PR.com
)-- Highland Pharms, a leading provider of technologies and products to the medical and recreational marijuana and hemp industries, is pleased to announce the launch of the first releases of Highland Pharms CBD Hemp Oil products. The initial product line includes standard CBD Hemp Oil Drops as well as specialty blends of drops and tinctures, and CBD Hemp Oil Vaporizing (vape) products.
The new products utilize premium cannabidiols (CBD) extracted using only the finest SuperCritical CO2 extraction process, thus maintaining the full spectrum of cannabinoids and phytonutrients. By utilizing only premium quality CBD from hemp, Highland Pharms is positioned to be recognized as a Premium Quality CBD Hemp Oil brand which utilizes only the finest, purest and freshest ingredients. While focusing on premium branding, however, the company acknowledges its first CBD Hemp Oil products are priced at one the lowest cost per mg of CBD available today. "Making the best quality CBD hemp oil available at prices our customers can most easily afford is paramount to us achieving our vision of becoming the most respected name in CBD hemp oil products," said Luke Johnston, Vice President-Sales Highland Pharms.
The initial product line includes a 250mg CBD Hemp Oil Drops/Tinctures, 1500mg CBD MAX Hemp Oil – an ultra high concentration of CBD in drops form, CBD TOTAL Hemp Oil Drops/Tinctures – a specialty blend of several ingredients offering users a well rounded effect, a CBD Vape Kit including atomizers prefilled with 100mg of CBD and a Refill CBD Vape Oil in bottle form. Further market studies are currently underway to determine the need for other products including edibles.
The Highland Pharms CBD Hemp Oil product line will be available exclusively online at
WellSpringCBD.com
. Orders are currently being received from brick and mortar vape stores, dispensaries, health salons, and chiropractors' and doctors' offices. "Vape stores and lounges, as well as medical practitioners are showing extreme interest in our products since we focus on premium products at affordable prices," says Johnston. "I also have cancer. So, it's extremely gratifying to walk into doctors' offices, many of whom are already prescribing CBD Hemp Oil for their patients, tell them my story and my connection to the Highland Pharms products and be responded to with an immediate wholesale order. I've been through the gruesome, debilitating effects of chemo and I know firsthand how CBD Hemp Oil helped me. This message resonates with so many people."
About Highland Pharms
Headquartered just west of Austin, Texas, Highland Pharms is a group of businesses providing technology and products to the medicinal and recreational marijuana and hemp industries. Molecule New Water Technologies is the leading wholesale and retail distributor of EcoloBlue Atmospheric Water Generators. WellSpring CBD Oil Online is an online marketplace for various CBD Hemp Oil branded products, offering affordability and free shipping on all orders. Highland Pharms CBD Oil is a leading provider of premium CBD Hemp Oil products at the industry's most affordable pricing levels. Combined, these companies are positioned to be a dominant force in the rapidly expanding cannabis consumer and provider industries.