SAGE SatCom Delivers Industry's First 20 Watt Linear Ka-Band Gallium Nitride Block Up Converter (BUC)
Compact, lightweight high power Ka-Band GaN-based BUCs combine power efficiency and reliability for next-generation satellite data communications.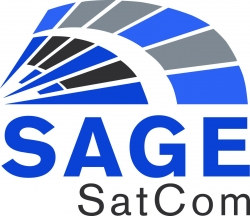 San Diego, CA, March 17, 2015 --(
PR.com
)-- SAGE SatCom, a leading provider of high quality, compact Ka- Band Block Up Converter and Transceiver solutions, today announced that it is now shipping its high-power 20 watt linear Ka-band BUC solutions to integrator partners in the US and in Europe.
SAGE SatCom's Gallium Nitride (GaN) solid state technology allows for significant power consumption and size savings compared to the widely used Gallium Arsenide (GaAs) technology, without compromising RF performance or reliability. The overall size improvement is dramatic enough to enable simplified installation directly on the antenna feed arm, without the need for pedestal mounting. The GaN based 20W Linear Ka Band BUC product from SAGE SatCom is shipping in the same physical enclosure as the GaAs based 12W Linear Ka Band BUC. SAGE SatCom Ka-band BUC products offer the highest linear power levels in the most compact and lightweight package on the market.
Sage SatCom's Block Upconverters are built using military grade components and corrosion resistant materials, allowing them to withstand extreme weather conditions throughout the world. For satellite service providers and integrators who offer solutions utilizing both military and commercial Ka-bands, SAGE SatCom BUCs offer simplified system planning, logistics and sparing as they cover the entire 29-31 GHz frequency band in a single unit. Flexibility of monitoring & command (M&C) of the BUC is enhanced through the use of both RS-485 and HTTP (Ethernet) interfaces. Field replaceable fuse and weather proof fans simplify maintenance.
"As the adoption of Ka-band satellite spectrum increases, satellite operators, service providers and integrators are looking for a BUC solution that provides high power, reliability, and efficiency along with low CAPEX," said Dave Newman, Chief Executive Officer. "SAGE SatCom's 20W GaN-based block upconverter delivers industry leading power efficiency and packaging once again demonstrating our leading edge technology in the Ka Band BUC market."
About SAGE SatCom
SAGE SatCom is focused on satellite communication solutions that support high linear power, solid state reliability, low power consumption, and compact packaging at various linear power levels. SAGE SatCom's high power Ka-band BUCs utilize solid state Gallium Arsenide (GaAs) and Gallium Nitride (GaN) RF technology to provide industry leading power consumption and efficiency. The SAGE SatCom team has vast experience in design and integration of RF products including wideband frequency up/down converters, wideband low and high solid state power amplifiers, transceivers, LNBs, wideband driver modules, line driver modules, low power BUCs for TWTA drive, and waveguide power combining technologies. The company's design capabilities are complemented with strong execution on operations and customer support. SAGE SatCom is part of a REMEC Broadband Wireless, a leading ISO 9001:2008 certified global telecommunications solutions provider with a research & development and manufacturing center in North America and partnered with a world-class radio and RF manufacturing facility in Asia. For more information, visit
www.sagesat.com
Contact
SAGE SatCom
Sanjay Nagpal
1-858-312-6974
www.sagesat.com

Contact