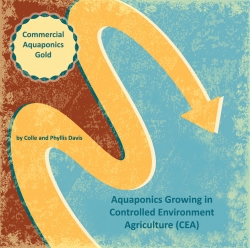 Cape Coral, FL, March 30, 2015 --(
PR.com
)-- The 21st Century brings new challenges for supplying food to the growing population of the world. This eBook is to help you evaluate commercial aquaponics as a lucrative component in providing a solution to the challenge.
Aquaponics is trending and today, even city planners are focusing on funding for both hydroponics and aquaponics systems to create higher degrees of food security in large cities to feed their growing urban populations. Their plans include the use of vacant lots for the installation of attractive greenhouses and retrofitting empty warehouses for growing food year round with the addition of grow lights.
The future of food production in urban areas involves growing food in controlled-environments such as greenhouses or modified warehouses so growers are no longer dependent on weather conditions for growing food (drought, high winds, torrential rains, snow, hail, extreme heat or cold weather). Aquaponics farms are able to grow food year round and sell locally to a ready market. Plus, there is no need to use harsh chemicals or pesticides to protect their plants in the controlled environment.
There is a growing movement across the world to secure and eat organic or at least locally-grown foods to increase local economies and reduce the carbon footprint. This movement has become so powerful and wide spread that nearly every major supermarket in the world offers their customers locally grown food. This movement has also pushed seed sales to new heights as people plant soil gardens or install hydroponics or aquaponics systems to grow healthy vegetables for their families so they can control the quality of the food they eat.
Aquaponics is a cutting-edge and water saving technology to increase a family's level of sustainability and health and by installing their aquaponics system in a greenhouse, families can extend their growing season year round and have complete control of what foods they grow and what they are feeding their family.
Commercial Aquaponics Gold
Introduction to Commercial Aquaponics
An Overview of Aquaponics
Is Commercial Aquaponics for You?
Conceptional Research for Commercial Aquaponics
Basics for Commercial Aquaponics
How to Become a Millionaire on One Acre of Commercial Aquaponics
Building a Commercial Aquaponics Installation
Installing Aquaponics in Warehouses @ $12 per foot
Overseeing a Commercial Aquaponics Operation
Conducting a Highly Valuable Marketing Survey
Two Free Bonus Extras:
1) A ten step-strategy business plan template designed specifically for commercial aquaponics to present to funders
2) PFAS LLC's Executive Summary showing production and operating costs, profits and best-produce choices to achieve the shortest Return on Investment.