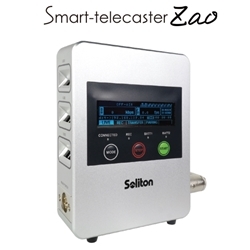 San Jose, CA, April 02, 2015 --(
PR.com
)-- No longer are broadcasters and first responders dependent on expensive satellite transmission systems, thanks to Smart-telecaster Zao, a hardware encoder designed for mobile broadcasting and first responder markets.
Soliton Systems K.K. (JASDAQ Securities Exchange, 3040), a leading innovator of mobile video solutions and products, announced today that it is now taking orders for its Smart-telecaster Zao with breakthrough H.265 compression technology.
Regardless of the mobile network — 3G, 4G/LTE or BGAN — Smart-telecaster Zao (
http://www.smart-telecaster.com/product/
) delivers high-quality, real-time streaming video. Soliton's proprietary RASCOW™ (Real-time Auto Speed Control based-on Waterway model) transmission control technology dynamically adjusts video compression ratios and frame rates to ensure smooth, low-latency video/audio transmission, even in the most challenging locations where cellular bandwidth is limited. Combining this technology with built-in encryption and connection authentication features makes Smart-telecaster Zao an attractive alternative to expensive satellite transmission for broadcasters and first responders. Over the last several years, Soliton Systems technology has been fully field tested in bandwidth-scarce environments such as the Sochi Winter Olympics and several natural disasters.
Where Smart-telecaster Zao truly shines is the inclusion of the H.265/HEVC video compression standard. H.265 enables Smart-telecaster Zao to dramatically reduce power consumption, shrink the chassis footprint and maintain higher on-the-spot usability, thereby raising the bar for state-of-the-art transmission.
Smart-telecaster Zao further accelerates the global trend in mobile broadcasting away from conventional satellite relay. In addition, it promotes the use of live video in a variety of fields, such as disaster recovery, emergency medical care, construction sites and other markets.
Key features
Soliton's proprietary RASCOW™ transmission technology
• Stable video/audio transmission, even over fluctuating mobile networks
• Support of eight mobile channels
• Low-latency capability to enable communication with the site
High-quality image and sound
• Originally developed H.265/HEVC hardware encoder
• Improved image quality of full HD at low bit rate
• 48kHz voice frequency supported
Compact size and lightweight
• Dedicated designed compact chassis (WHD: 4.84"x6.3"x1.8": Weight: 1.95LB | WHD:123x160x46mm; Weight: 890g)
• Original transition bag with rain cover
• Optional camera mount kit
Low power consumption
• Power consumption: 28Wh
• Operating time: more than five hours with IDX DUO-150 battery
• Redundant power supply
Simple operation
• Three buttons enable intuitive operation
• Remote configuration from smartphone app
Cost reduction of the receiving device
• Software upgrade for the receiving device
• Compatibility with previous models (Smart-telecaster HD, Smart-telecaster for iOS ML)
About Soliton Systems K.K. (http://www.soliton.co.jp) and Smart-telecaster (http://www.smart-telecaster.com):
Soliton Systems K.K. (JASDAQ 3040:JP) is an innovative system solutions provider headquartered in Tokyo, Japan, with offices in San Jose, California, and Shanghai, China. Founded in 1979, Soliton has been a pioneer in LAN, broadband Video on Demand, IT Security and other technology products.
Soliton's Smart-telecaster product group has 11 years experience in providing mobile video solutions for mobile news gathering, Internet broadcasting and other vertical markets with demanding HD video requirements.
Soliton Systems, Inc.
2635 N 1st Street, Suite 213,
San Jose, CA 95134
Contacts:
Global Sales and Rentals:
Aki Abe
aki.abe@solitonsys.com
Phone +1 408-421-0910
Yeji Won
yeji.won@soliton.co.jp
Phone +81 3 5360 3860
* Soliton Systems, Inc. would like to welcome you to visit them at
NAB 2105 exhibition April 13-16 at SU5514
to learn more.