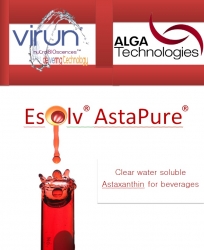 Walnut, CA, April 07, 2015 --(
PR.com
)-- VIRUN NutraBIOsciences has several facilities nationwide and has decided to consolidate their headquarters in California, which followed an agreement with the State of California that issues VIRUN a substantial tax credit.
With over 10 branched divisions at VIRUN NutraBIOsciences; growth is exponential and has its rewards...
The old cliché, "money can't buy happiness," holds true in most cases. Money may not buy happiness, but money sure does help quickly expand a business! California Competes Tax Credit allows for fast growing businesses to gain access to a tax credit that correlates with growing revenue and heavy spending, such as increase labor force, equipment, and in VIRUN's case, intellectual property. The California Competes Tax Credit VIRUN has received will allow VIRUN to grow each and every facet of its operations. With over 10 branched divisions ranging from finished beverage manufacturing to spray dry powder encapsulation, soft gel encapsulation, liquid emulsions, nanotechnology and R&D/finished product development, VIRUN's growth covers a wide-range spectrum. In the past, enormous companies such as Google, Apple or Intel would have the benefits of state tax credits. So, needless to say, VIRUN receiving a multi-million dollar tax credit form The State of California is a "golden" opportunity, for both VIRUN and California, to create revenue in the land of sunshine, wine and beaches. What was once proclaimed as, the Silicon Valley growth boom of CA., now has become a biotechnology effort to bring food and beverage development back to California. Labeled as the "Google-of-the-food-and-beverage industry," VIRUN, will immerse itself to be a premiere, global development company for foods, beverages and the life-sciences headquartered in California.
Yet another patent approved in China using Virun's Esolv® encapsulator and technology which includes OmegaH2O®, CoenzymeClear® and AstaXH2O™
Patent number 200980132984 was recently granted in China shortly after VIRUN patent number 200180025197 was also granted in China, just a few months prior. VIRUN's focus on global markets began with an extensive international intellectual portfolio. This portfolio not only focuses on Esolv® clean label claim encapsulator, but also contributes to the stability, flavor and color of the finished product. VIRUN's vast portfolio enables VIRUN to offer Esolv® as a standalone ingredient in addition to VIRUN's development capabilities. From raw material, formulation development work, stability-assurance, all-the-way to finished product manufacturing; VIRUN can produce your beverage, smoothie, shot or liquid supplement fast and efficiently. Virun's fast-food-drive-thru approach combined with global patent protection will surely set your brand aside from the rest. Esolv® product information, product catalog and description is currently available at VIRUN's newly renovated website. Visit VIRUN's website today to see the specific products that can enhance your beverage claims.
Algatechnologies to Premier Esolv® AstaPure® Clear 30 & 60 Powder
Algatech, a global leader in Algae manufacturing, is premiering VIRUN's Esolv® technology and encapsulator along with their AstaPure®. This will allow for clear functional beverages to take advantage of the growing health claims and high demand of Astaxanthin in their beverage, liquid supplement or shot. Gary Brenner, Manager of Business Development said, "Algatechnologie's recent expansion of Astaxanthin production will allow Algatech to focus on other markets that have not yet fully adopted Astaxanthin's rich health benefits. Now, emerging and existing brands can take advantage of clean label claim Astaxanthin utilizing VIRUN Esolv® technologies." Philip Bromley, CEO and co-founder of VIRUN said, "We are getting more and more requests to include Astaxanthin in functional beverage applications, primarily in sports-type functional beverages. VIRUN's clean label claim Esolv® produces a clear Astaxanthin, utilizing Algatech's AstaPure®, that is stable in beverage applications and taste great!" Algatech will premier Esolv® AstaPure® in Geneva, Switzerland at Vitafoods™ Europe, May 5th thru 7th. Try AstaPure yourself and see the "clear" difference.
Philip Bromley, CEO, VIRUN to Speak at upcoming Biotech Appreciation Event presented in association with Bluestem Capital Company, South Dakota Biotech Association & Woods, Fuller, Shultz and Smith P.C.
Join Mr. Bromley as he presents the highly anticipated presentation, "Innovation and Entrepreneurship – Why Commodity Economics Killed Innovation." Mr. Bromley will engage his audience with a captivating, entertaining yet enlightening experience. On demand will be available post event.
About VIRUN:
We are a Nutra-BioSciences™ company formed in 2003 and headquartered in Walnut, CA. We emphasize the safe and efficient delivery of pharmaceuticals and nutrients to the human body through use of our patented and patents-pending technologies. VIRUN's pharmaceutical and dietary supplement technologies allow improved bioavailability through nanotechnology and Transferrin conjugation that target specific cells within the body. Additionally, VIRUN's Esolv® and DPtechnology™ allow water-insoluble nutrients to be clear, water-soluble and stable in food, beverage and supplement applications. VIRUN's innovative solutions and brands include Omega-3 EPA DHA branded as OmegaH2O®, Resveratrol, CoQ10 branded as CoenzymeClear™, Astaxanthin, PQQ branded as PQQwater™, Lutein, Phytosterols and Curcumin. Virun is a fully integrated research and production facility with manufacturing in California and finished product processing also in California.
About Algatechnologies:
Algatechologies is a rapidly growing biotechnology company, specializing in the commercial cultivation of microalgae. Founded in 1998, Algatech is a world leader in the production and supply of AstaPure®, a premium natural astaxanthin - one of the world's most powerful antioxidants sourced from the microalga Haematococcus pluvialis. Located in Israel's Arava desert – with its stable climate and high light intensity – Algatechnologies is ideally positioned to cultivate algae. The company produces astaxanthin in an innovative process, and markets its AstaPure® brand to the nutrition, food & beverages and cosmetics industries. Algatechnologies enjoys a global presence through a well-established marketing network of selected distributors and agents. The company's sales organization serves more than 30 countries, via an extensive network of exclusive distributors and by direct sales to multi-national customers. The company provides logistics, warehousing and lab support services, offering customers reliable supply and prompt response.
VIRUN
PR Director - Stephanie Bromley
(909) 839-0629
email: stephanie.bromley@VIRUN.com
www.VIRUN.com