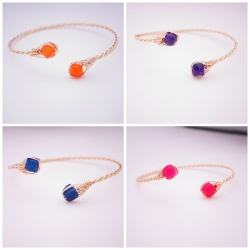 Richmond Hill, Canada, April 24, 2015 --(
PR.com
)-- Inayaaz (http://www.inayaaz.etsy.com) made a splash at the GBK's 2015 MTV Movie Awards Weekend Gift Lounge with its
Adjustable gemstone bangles
that were gifted to celebrities, V.I.P.'s and members of the press. The by-invitation-only Gift Lounge took place April 10-11, 2015 at an exclusive location in Hollywood, California.
The Artisan Group exhibit was attended by numerous members of the press, including E! Online, The Huffington Post, LA Splash, and AMB Magazine, among other blogs and publications. Top tier celebrities Chris Mulkey (Nominee, Whiplash), Nathan Fillion (Castle), Jason Ritter (HBO's Girls), Benito Martinez (American Crime), Dot-Marie Jones (Glee), Paige Hurd (Hawaii Five-O), Marcus Scribner and Miles Brown (Black-ish), Dylan Gelula (Unbreakable Kimmy Schmidt), Tristin Mays (The Vampire Diaries), Stassi Schroeder (Vanderpump Rules), Tamala Jones and Geno Segers (Castle) and many others, received The Artisan Group celebrity gift bags.
Fizza Sheikh, Owner and Designer Inayaaz gemstone Jewelry, is known for her handcrafted Feminine Designs that incorporates polished gemstones and these bangles are no exception! Made with hand twisted wire these bangles come in a varitey of colors including Carnelian orange, hot pink chaceldony, Purple amethyst, Light Prehinite and blue lapiz.
"I'm so excited to be able to introduce the Inayaaz brand, and these cool new gemstone bangles to the hip MTV crowd that will be attending this event," says Fizza. "Feminine, Flirty and fun this bangle design provides a young, fresh gemstone look for dressy occasions and look equally great dressed down with a blazer and jeans."
As expected this wonderful unique design was a big hit with the Celebrities at attendance!
Within hours of receiving her gift bag Laura Slade Wiggens from "Shameless" shared a picture on Twitter wearing Inayaaz Bangle!
Cortney Palm, Actress from "The Purge" shared on Twitter "@inayaaz @theartisangroup I love it! I have been wearing it! Need to post a photo! Thank you so much, so light and classy!"
Adam McAurther From "Star vs The Forces of Evil" also shared on Twitter "@inayaaz @theartisangroup my wife loved it! Thank you guys!"
The bracelets are available to purchase at www.inayaaz.etsy.com and retail for $35.20
Inayaaz Gemstone Jewelry has also been seen worn by Nina Dobrev (playing Character Elena Gilbert) on Episode 8 of Season 6 of the CW Network's "The Vampire Diaries" and included in The Artisan Group celebrity swag bags at GBK's Gift Lounge for the 2014 Prime time Emmys and the 2015 Golden Globe Awards. Inayaaz jewelry is also in the hands of the wardrobe stylists for "The Fosters", "Hart of Dixie," "New Girl", "Modern Family" and "Baby Daddy" for consideration of use.
Inayaaz Gemstone Jewelry has received consideration from the press including a feature in Fab Five Lifestyle Magazine & PPLM Entertainment Lifestyle Magzine, dreaminheels.com, The last place.com and fashionsdigest.com/
To learn more about Inayaaz Gemstone Jewelry and its participation in GBK's MTV Movie Awards Weekend Gift Lounge, contact Fizza sheikh by email. Follow the company on Facebook (@Inayaaz), Twitter (@inayaaz) and Instagram (@inayaaz). To learn more about The Artisan Group, visit theartisangroup.org
Shop Inayaaz at http://www.Inayaaz.etsy.com.
About Inayaaz
Inayaaz (http://www.inayaaz.etsy.com) sells elegant, feminine jewelry crafted by hand using genuine gemstones, freshwater pearls, sterling silver and gold-filled findings. Every piece is hand made with lots of care and attention to detail.