How to Thrive at Disney World with Health Issues: New Travel Guide Helps Disney Vacation Dreams Come True
Traveling can be difficult or even impossible for people with health conditions, special needs or disabilities. In the new guide book, Walt Disney World with Disabilities, Stephen Ashley shares everything you need to know to thrive at Disney World with physical and emotional health conditions.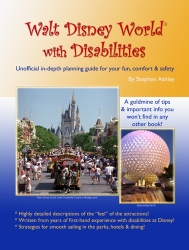 Pembroke Pines, FL, November 27, 2007 --(
PR.com
)-- You're dealing with health issues, yet you dare to dream of a vacation. How will you get your needs met? Despite his wife Sarah's many health problems, experience has taught Stephen Ashley that they can vacation with ease and confidence at Walt Disney World. In his newly released book, Walt Disney World® with Disabilities, Ashley has included everything you need to know in advance to thrive at Disney, with anything from minor to major physical or emotional conditions.
According to Stephen it took years of trial and error to figure out which rides and attractions Sarah could enjoy without flaring her condition. "Often, I served as Sarah's test dummy on various rides," jokes Ashley. "We read every book and pamphlet out there and combed the web, but there was just so much information missing. We realized we had a lot to share that could help others with health issues enjoy a smooth and relaxing vacation," said Ashley.
Walt Disney World® with Disabilities contains the most in-depth and full descriptions you'll find in any Disney World guidebook of the physical and emotional "feel" of Disney World attractions. It's also filled with a wide variety of tips for increasing comfort and avoiding problems at Disney that you just don't see anywhere else. Anyone who has tried to navigate Disney – with or without a serious health condition – will understand how valuable this level of detail can be.
Walt Disney World offers a wide variety of guest support services, yet according to Ashley, most people are not aware of what's available specifically for them and their individual needs. So in addition to ride descriptions, Walt Disney World® with Disabilities also offers extensive information on Disney's special services, as well as expert advice regarding topics including:
• How to get your needs met in the parks, resorts and restaurants
• Details on handling medication & medical equipment
• Meeting special dietary needs
• Transportation
• Wheelchair use
• Dealing with specific conditions in the parks and resorts, and much more.
Travel writer Hillary Easom wrote:
"Stephen Ashley is a Disney guru! Walt Disney World® with Disabilities includes the finest details, from hints for making room reservations to tips about which disability or phobia might be affected by each individual ride or attraction. Clearly, Ashley knows the parks inside and out. This book fills a glaring gap in Disney tourism literature and will help make the parks more enjoyable for every visitor."
Dr. Richard Risi of Florida wrote:
"The attention to detail relieves the fear-factor of the unknown that the disabled normally have to deal with. The easy to use format describing just about every ride, attraction, restaurant, and venue found in the whole of Disney World, places empowering knowledge at the finger tips of every disabled or special needs visitor. If you are fortunate enough to obtain a copy, you may find it to be a "master-key" to a world of safe Disney fun."
Walt Disney World® with Disabilities is now available on the Web through the official Web site:
www.Diz-Abled.com
. Or it may be ordered through www.Amazon.com and www.barnesandnoble.com. For bulk purchase and group discounts contact the publisher, Ball Media Innovations, Inc., at (954) 432-1274.
- Media Interviews Available
- Book Available to the Media Upon Request
For More Information, Please Contact:
Greg Ball, President
Ball Media Innovations, Inc.
(954) 432-1274
granball@msn.com
www.Diz-Abled.com
###
Contact
Ball Media Innovations, Inc.
Greg Ball
954-432-1274
www.Diz-Abled.com

Contact