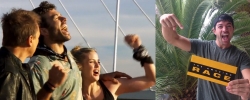 Santa Monica, CA, May 19, 2015 --(
PR.com
)-- 2Truths co-founder, Tyler Adams won The Amazing Race in stunning fashion during the show's Season 26 finale on CBS. After 21 days of racing around the world, and with the finish line in sight, Tyler called out to teammate Laura Pierson, "We're about to win The Amazing Race! And this is unbelievable!"
Friday's finale featured Adams driving a massive monster truck, corralling longhorns, and rappelling from the roof of AT&T Stadium, home of the Dallas Cowboys – where Adams kicked a clutch field goal on the first attempt to pave the way to victory.
"The show taught me a lot about communication and perseverance under pressure, no matter how big the challenge," said Adams, 27, who quit his job last year to pursue a dream of entrepreneurship and won Start-Up Weekend LA with his mobile app, HORSE (http://ow.ly/N45HW).
Last month, Adams launched his newest business, 2Truths and a Lie, a mobile app that re-imagines the way social networks are built. "We're turning that awkward first impression into a fun game that creates a meaningful connection with someone you just met," Adams explained.
2Truths is available in the App Store on iTunes (
http://ow.ly/N45JT
) and received high marks in its first product review. "2Truths and a Lie is short and sweet. It rewards instantly with its fun guessing game, while also giving romantic hopefuls a chance to meet new people and find a match," wrote KillerStartups.
To learn more about Tyler Adams and stay up-to-date on his latest endeavors, you can follow him on Facebook (http://ow.ly/N461Q) or visit his personal website at www.tylerhadams.com.
About 2Truths
2Truths is a mobile matchmaking app with headquarters in Santa Monica, CA. The app launched on April 25th, 2015 and is available for iOS in the App Store on iTunes. To learn more about 2Truths, visit their website at
http://www.2truthsapp.com/