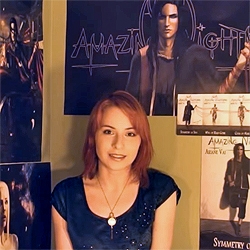 Warsaw, Poland, May 27, 2015 --(
PR.com
)-- For over half of the 20th century, writers living in countries within the U.S.S.R. under the control of communist Russia were unable to openly explore their craft - or themselves - through their writing. Aside from censorship, the real risks were persecution, reprisals and far worse.
As a 21st century author living in Poland, writer Ariane Vai represents a refreshing new wave of authors able to write and explore literary creativity without such fears. Vai has spent several years writing her first book, "Symmetry of Sins," a novel in five books which she collectively calls "New Amazing Nightmare." When the first book is published in English this summer, Vai will join the ranks of prominent Polish writers also published in English such as Andrzej Sapkowski who created "The Witcher" saga (which has since been produced into a classic computer game with a major following), Konrad Lewandowski known for his award winning science fiction and fantasy series, and Stanislaw Lem, one of the most widely read science fiction writers in the world.
"'Symmetry of Sins' is the first novel of mine worthy of seeing the daylight," Vai said. "What started as a rather simple idea grew in scope over time. The characters found their own, often contradicting, goals. They discovered their wants and fears." She added, "It turned out that nothing could be as simple as planned, and when everything finally crystallized in my head and all the pieces came together, to tell this story as it should be told...will need five sizeable volumes."
While science fiction in Poland began in the late 1700's when Michal Dymitr Krajewski published a novel about the adventures of a Pole on the Moon, the 20th century saw many changes in the work of Polish authors. One change that authors had to face was in having little leeway in the ability to question what they saw around them while constantly struggling with censorship. During the reborn Second Polish Republic (between WWI and WWII), much popular science fiction work dealt with dystopian themes, future war and satire. After World War II, science fiction was a tool for propaganda used to show the "bright future" of communism. Finally, with the Revolutions of 1989 which resulted in the Fall of Communism in Central and Eastern Europe, it became safe for authors to use "real world" material for their work in political fiction, sociological fantasy and science fiction.
Yet, fantasy fiction is relatively new in Poland, having appeared in the late 1980's. The earliest fantasy writers sprang up in the 1990's.
Vai was born in 1990, the same year in which fantasy writing was "born" in Poland, although "Symmetry of Sins" cannot strictly be labeled as fantasy, adventure, or even science fiction. The closest description might be "science fantasy," and appropriately so. With women writers in Poland comprising less than 15% of the science fiction and fantasy markets, Vai, as well as her book, is a product of her time.
Describing her story, Vai explains, "It's a story about love, but it's not a love story. It's a story about destiny - but there's no chosen one. It's a story about good and evil, but I will not tell you which is which!" She adds, with a twinkle in her eye, "You decide!"
Skilled in both writing and also in graphic art, Ariane not only wrote the story - she also created its illustrations and cover art. Accompanying the book release will be t-shirts, posters and printed playing cards illustrated with characters from the novel.
Vai recently inaugurated an indiegogo.com fundraising campaign in order to raise the funds needed for professional editing of the first volume, "Symmetry of Sins," and the public response has been highly positive, guaranteeing that the goal for the campaign will be reached. That campaign is nearing its end and the book will be released as an electronic book (e-book) through Amazon and other eBook dealers, but one of the perks for campaign donors is a signed hard cover copy of the book with a personal letter and a few small additions. The campaign can be found at:
https://www.indiegogo.com/projects/new-amazing-nightmare-editing-for-a-novel
Follow Vai on Twitter at https://twitter.com/VaiAriane and on Facebook at https://www.facebook.com/newamazingnightmare