Katy Spring Focus on Customer Service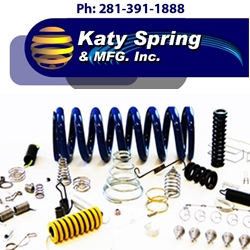 Katy, TX, June 02, 2015 --(
PR.com
)-- It was announced today that Katy Spring is improving customer service as their primary focus.
Katy Spring & Manufacturing, Inc. is a full service custom metal spring manufacturing company. Katy Spring manufactures compression springs, extension springs, torsion springs and flat springs along with other metal components. They cover endless varieties of shapes and sizes. Their goal is to satisfy customers and their unique project requirements with their primary focus being customer service. With over 150 years combined experience there are few spring problems Katy Spring hasn't solved. Please take a moment to visit their website
www.katyspring.com
.
Materials They Form:
Katy Spring offers a full range of manufacturing capabilities using NACE approved materials. Inconel X 750, Elgiloy, and MP35N in round, square, and rectangle wire configurations are just some of the exotic material used to manufacture springs at Katy Spring. Carbon steel and stainless steel material make up the majority of the orders processed through Katy Spring. They also manufacture springs with exotic materials such as Beryllium Copper, Brass and Rene 41 alloys.
Quality control:
Their ISO 9001 certified quality system insures correct product is delivered. To enhance our quality system Katy Spring has implemented (SPC) Statistical Process Control. Charting data using (SPC) exposes any manufacturing flaws before costly mistakes are made on production runs. Katy Spring has a Material Review Board that quickly responds to any customer issues.
Markets They Service:
Katy Spring designs and manufactures custom springs for a variety of markets. Chemical Industry, Valve Industry, Oilfield Industry, and springs used in the Medical industry are just some of the hundreds of markets they service. Katy Spring also services the emerging Clean Energy Industry. The need for clean energy puts our design and manufacturing team in the middle of these new technologies.
Health Safety Environmental:
Health Safety and Environmental are a top priority at Katy Spring. HSE meetings are held weekly. All OSHA Standards and Regulations are adhered to and well documented.
Contact
Katy Spring & Mfg, Inc.
Scott Pitney
281-391-1888
http://www.katyspring.com

Contact