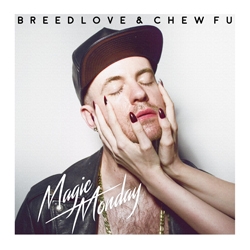 Brooklyn, NY, June 02, 2015 --(
PR.com
)-- Do you dream in downtown? From the back rooms of cant-stop nightlife, from the real punk partying New York City, 12/12 Records presents Breedlove & Chew Fu's debut full length album "Magic Monday." Fresh off of Lady Gaga's artRAVE tour, its already hailed by the Lady herself as a "hit in the making." The "Magic Monday" album teases genre while providing audio access to the most downtown, don't-care, and late-night city scene. Authenticity comes all too cheap these days: well, my pretties, here's your rare and fancy. Featuring 12 tracks that are equal parts dancy and dirty, "Magic Monday" is not for fakers. It's the real deal sound of 24 hour New York party people, and you're lucky to be invited.
Originally both solo artists, Breedlove & Chew Fu crossed paths along New York City's alt-pop performance circuit.
Breedlove was raised between California and the open road, moving to New York to attend college for theatre. It was there he met Lady Starlight- a DJ and performance artist best known for her frequent collaborations with Lady Gaga-who gave Breedlove his name and helped him develop his own musical approach and aesthetic: a strict diet of classic rock and New York nightlife, both heavily influencing his developing sound and style. Breedlove began performing at (and on-top) of infamous venues and bars downtown, including Lower East Side Rock N'Roll staple establishment St Jerome's, where he initially produced and starred in a popular weekly solo concert event entitled "Magic Monday." His unusual performance aesthetic-not to mention the popularity of the party itself-quickly gained notoriety: in 2010, Breedlove was invited to open for Semi Precious Weapons on their North American Dirty Showbiz Tour (Interscope/Geffen Records). In 2011 he appeared in Lady Gaga Presents: The Monster Ball Tour At Madison Square Garden, an HBO primetime special, and in her video promotions for the VMA's. That same year, Breedlove became the Chief Ambassador for her Born This Way Foundation on the American leg of the associated Born This Way Ball (Interscope Records).
Chew Fu himself was already a staple in the Euro House/EDM scene when he crashed into the US market with his official remix of Lady Gaga's "Love Game" feat. Marilyn Manson (Interscope Records). Initially coming up as a live jazz and funk artist in Amsterdam, he became known for his hard hitting beats combined with strong and persistent musicality. Chew Fu has collaborated across numerous genres, from writing for funk legend Bootsy Collins to production/remixes for 300+ pop artists such as Mariah Carey, Kelly Rowland, Far East Movement, Kings of Leon, Selena Gomez, and more. A Billboard-charting producer/remixer and a recent IDMA nominee, some of Chew Fu's most notable releases include: the grime/club hit "TAKE THAT" feat. Wiley (Island UK), and Rihanna's Rated R: The Remixes (Island/Def Jam)- for which he was the album's sole producer.
The pair teamed up in late 2011 and have been sonically inseparable ever since. They reinvented the "Magic Monday" party in 2014 as a joint performance - complete with go-go dancers and a colorful roster of celebrity attendees - and a new musical style and spectacle emerged. An homage to this legendary live set, "Magic Monday" is a daring re-imagining of disco, cabaret, rock, and electro-pop. It is a "dance-athon toast to the grittiness and don't give a f*k glitz of Manhattan nightlife." This rebellious album features selections performed on Lady Gaga's artRAVE tour as well as eight previously unreleased musical creations.
"Magic Monday" will be available Jun 2nd 2015. Made available through 12/12 Records, a subdivision of Gully Entertainment LLC, through Tunecore and all of its affiliated download portals such as: iTunes, Amazon MP3, Spotify, Google Play, and more.
Photos by Kyleigh Dgregorio. Images must be credited for usage.