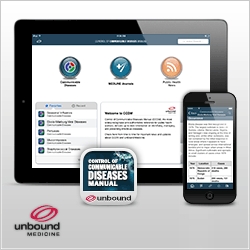 Charlottesville, VA, June 09, 2015 --(
PR.com
)-- Unbound Medicine, a leader in knowledge management solutions for healthcare, and the American Public Health Association (APHA), the most diverse organization of public health professionals in the world, today announced the release of the latest edition of Control of Communicable Diseases Manual for Mobile Devices and the Web.
Recent epidemics, such as the Ebola outbreak, prove how vital it is for clinicians and public health professionals to have trusted, up-to-date information at their fingertips to answer critical questions about the occurrence, transmission, resistance, and control of infectious diseases. The Control of Communicable Diseases Manual, published by APHA, and now available on the Unbound™ platform, provides this essential information in a mobile, rapid-access format.
When in the field, public health professionals can access the entire contents of the Manual without an internet connection using Unbound's advanced mobile app, available for Apple® and Android™ smartphones and tablets. When in the office, users have access to a full-featured website that allows deeper research on public health topics with search and exploration of the medical journal literature.
"As we continue to battle infectious disease outbreaks around the globe, CCDM remains a crucial resource for health practitioners," said Georges Benjamin, MD, executive director of APHA. "Our continued partnership with Unbound Medicine allows health professionals to access this book wherever they are, whether in the lab, in the office or on the front lines of a public health emergency."
To complement the Manual, the Unbound product also includes citations, abstracts, and full-text links from the latest issues of journals such as the American Journal of Public Health and Bulletin of the World Health Organization along with news feeds from public health sources such as APHA, the World Health Organization (WHO), and the Centers for Disease Control and Prevention (CDC).
"We are pleased to continue our partnership with APHA at a time when international attention is keenly focused on the prevention and control of communicable disease," said Bill Detmer, MD, president of Unbound Medicine. "More than ever, it is critical to have the latest recommendations in the hands of clinicians and public health workers wherever they serve."
Users can preview the content and product functionality by downloading the application in iTunes® or GooglePlay™ app stores or by visiting the product website:
www.unboundmedicine.com/ccdm
.
About Unbound Medicine
Unbound Medicine builds digital products that answer clinical questions at the point of need. With expertise in medical informatics, health technology and medical publishing, our team has delivered innovative mobile and web solutions to health care institutions and individual clinicians for more than 15 years. Additional information is available at www.unboundmedicine.com.
About APHA
The American Public Health Association champions the health of all people and all communities. We strengthen the public health profession. We speak out for public health issues and policies backed by science. We are the only organization that influences federal policy, has a 140-plus year perspective and brings together members from all fields of public health. Visit
www.apha.org
.