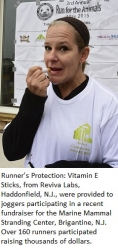 Haddonfield, NJ, June 12, 2015 --(
PR.com
)-- The Marine Mammal Stranding Center, Brigantine, N.J., its staff, and patients has expressed their gratitude to Reviva Labs, Haddonfield, N.J., for their continuing support of the non-profit organization.
Recently Reviva Labs gave their Vitamin E Sticks to runners participating in MMSC's "Annual Run for the Animals." More than 160 joggers participated. Thousands of dollars were raised.
The Marine Mammal Stranding Center, to date, has treated more than 4,500 marine mammal "patients." They include sick seals, giant sea turtles, dolphin's and even whales that wash ashore along N.J.'s 1800-mile coastline.
Reviva Labs, a non-animal testing producer of skin care products, has been giving its Vitamin E Sticks (for their fund-raising purposes) to MMSC for decades.
Reviva's Vitamin E Sticks provide outdoor sun protection for lips and under eye areas.
They are especially helpful in protecting lips, under eyes and other tender skin areas exposed to harsh rays and even cold winter air, which can produce dry, cracked lips.
They have also been given as a public, health service to joggers and walkers, especially those participating in community fundraising events, as part of Reviva's continuing public service program.
Reviva has also given the Vitamin E Sticks to U.S. troops serving overseas under adverse weather conditions.
For more information contact Reviva Lab's, 705 Hopkins Rd., Haddonfield, N.J. 08033; Tel.: 800-257-7774; Fax: 856-429-0767, or visit www.RevivaLabs.com.
Note to Editor: A sample can be mailed to the Editor directly from Reviva Labs. Please let us know if there is a special name and address to whom an additional sample should be sent. Contact: Elena Cruz, American News Services, at 29 Bala Ave., Ste. 114, Bala Cynwyd, PA 19004; Tel.: 484-562-0060; E-Mail: adcomtimes@aol.com.