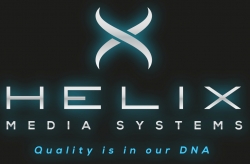 Indianapolis, IN, June 23, 2015 --(
PR.com
)-- Helix Media Systems, the fastest growing Media Server company exclusively supplying custom installers and dealers in North America, has announced the release of 2 new Media Extenders to compliment their already prestigious line of Media Servers.
These extenders the ION ($149.99) which includes 1x HDMI, 4xUSB and 1xLAN port and the ION Stick ($99.99) which is a 1x HDMI Stick that includes onboard wireless connectivity and a basic remote, will allow the end user access their stored content from their Helix Media Server and is compatible with ANY 3rd party Media Server as well.
A Client/Zone Player compatible across all platforms is something not seen yet in the custom Installer world.
Pat Burton the CEO of Product development at Helix stated, "We wanted to create a device that allowed the end user the ability to access his media for al low cost across their entire house or network, no matter whose media server they are storing their content on."
If that wasn't enough, both of these extenders come pre-loaded with the Helix setup that will allow the user to scroll through their media in the same engaging interface found on Helix Media Servers.
Even more impressive, the ION and ION Stick come fully configured with almost a dozen streaming apps that allow you to literally stream almost any TV Show or Movie content that is available online.
A 4 year member of CEDIA, Helix Media Systems has always pushed the envelope with streamlining new technological advances and getting them to work for the end user. And now with their advanced streaming services which streams free movies and TV shows from hosting sites overseas, there is more content available just a click or two away than ever before.
The release of these 2 new media extenders is no exception to their strive for perfection and quality.
Now custom installers are able to network an entire household of TV's for just a couple hundred dollars and also be able to access all of the content that is available online.
Surely there is more to come from this fast paced and growing Media Server company but getting these $99 1080p media extenders in the hands of their dealers is a big piece of the puzzle.
The ION and the ION Stick are available today direct from the Helix website or through their distributor HouseLogix.