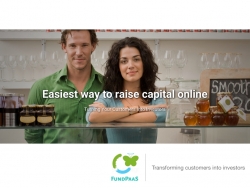 New York, NY, July 15, 2015 --(
PR.com
)--
FundPaaS
- the easiest way to raise capital online
Started by a team of FinTech and Legal experts in the heart of Silicon Valley, FundPaaS, a portmanteau of "funding" and "platform as a service (PaaS)," is set on a mission is to simplify raising capital online and enable the 28MM SMBs in the US, to get loans directly from their customers and create stickier relationships with those they serve and love them best.
Like most startups, FundPaaS had to prioritize its roadmap and build that first set of features dubbed as the minimum viable product (MVP) in order to fund its greater vision while addressing inefficiencies in today's offerings for ID verification, AML and Accreditation Services. These services are expensive, fragmented, convoluted and full of conflict with portal operators as they redirect investors to 3rd party sites. FundPaaS provides ultimate flexibility in terms of user experience since investors are never forced to leave the crowdfunding site. There are no 3rd party forms to fill out but most importantly, FundPaaS doesn't store or sell any investor data which makes it 100% conflict free.
Members of the FundPaaS team, have worked on Wall St (Goldman Sachs, BlackRock) and Silicon Valley (Motif Investing, Planwise, BancBox, NASA) and have been intricately involved in the launch of over 150 crowdfunding portals since the passing of Title II of the JOBS Act in 2013. That's enabled the company to build strong partnerships with the best vendors servicing the crowdfunding industry as well as key customers that can benefit from a reduction in friction during the investor sign-up process, cost savings and regulatory compliance. FundPaaS' API only costs $12 per investor vs. $60 per investor charged by most of its competitors. "By being a system integrator of choice, we seek to reduce our client's time to market as their one-stop shop to connect with the most frequently used APIs in crowdfunding. In a way, we are borrowing this approach from our friends at Uber. For payments they used Stripe instead of building their own so we're currently integrating the 3rd party escrow services provided by FundAmerica and CrowdPay to power equity crowdfunding instead of reinventing the wheel. On the
Investor Onboarding API
, we apply the same concepts but with several data sources. We access and analyze public records including the IRS, credit bureaus, over 18,000 financial institutions, payroll services and 1,500 aggregated 'do not transact' lists such as the OFAC database, politically-exposed people (PEPs) and negative watchlists to name a few. This provides compliance with the US Patriot Act (OFAC, FinCEN), Bank Secrecy Act (CIP) and SEC Rules to ensure that an investor is in fact, accredited based on income, assets or 3rd party letter. We also use Big Data analytics to generate a compliance score that indicates the level of risk associated with a particular investor or issuer. The score necessary to 'PASS,' can be calibrated by a compliance officer or portal administrator," said Amilcar Chavarria, a FinTech Entrepreneur on his 3rd tech startup and FundPaaS' Co-Founder & CEO.
Gold Rush? Sell Picks & Shovels
If successful, FundPaaS will enable SMBs to tap a new source of "working capital" that wasn't possible until the recent approval of Reg A+ (Title IV of the JOBS Act) last month which enables companies to raise up to $50MM from accredited and non-accredited investors. In addition to this regulatory change at the federal level, intrastate crowdfunding exemptions are active now in 17 states with an additional 21 states pending approvals. Whether at the federal or state level, these new rules have made investing in small and medium size businesses accessible to everyone within certain limits. The passing of these new rules have generated a 'gold rush' sort of frenzy with lots of crowdfunding portals launching every day as well as traditional business models like commercial real estate (e.g. CrowdStreet), private equity (e.g. The Carlton Group) and cleantech firms (e.g. SolarCity) adopting a new web 2.0 standard in the world of online investing. FundPaaS' mantra is to sell the picks and shovels, which makes the Investor Onboarding API, its first axe in the marketplace.
As an API 1st shop, FundPaaS has built a cost-efficient and scalable solution that its clients can use while remaining in control of their user experience. No technical team on your side? That's not a problem. They've also wrapped the same API into an easy to use web application that anyone can access and have partnerships with the best portal builders such as CrowdEngine.