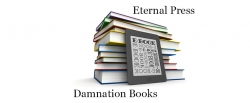 Santa Rosa, CA, July 29, 2015 --(
PR.com
)-- Damnation Books and Eternal Press will release new titles on 1 August 2015.
William and Kim Richards Gilchrist own the California based Publishing Companies. Distribution of e-books and trade paperbacks includes Barnes & Noble, Nook, Amazon, Kindle, OmniLit, All Romance and other retailers. Signed copies are available through the company's eBay store. Onsite, at EternalPress.biz and DamnationBooks.com, e-copies are available in PDF, MOBI & EPUB formats compatible with most popular e-reading devices.
From Eternal Press –
· Bittersweet by Laurencia Hoffman
Genre: Fantasy Sub Genre: Paranormal
· Cameron by Edward Tailor
Genre: Erotica Sub Genre: BDSM
· Glorious Summer by Alexandra Tucker
Genre: GBLT Sub Genre: New Adult
· Lucidity by Ray S. Kent
Genre: Romance Sub Genre: Dark Fantasy
· Ramblin' Rosegarten by Beth Bishop
Genre: Dark Fantasy Sub Genre: Vampire
From Damnation Books –
· Hazard of Shadows by Mike Phillips
Genre: Dark Fantasy Sub Genre: Urban Fantasy
· In the Shadow by Phil Morgan
Genre: Dark Fantasy Sub Genre: Fantasy
· The Trail of the Beast by Matt Spencer
Genre: Dark Fantasy Sub Genre: Thriller
· Witch Hunt by Ian Jarvis
Genre: Paranormal Sub Genre: Urban Fantasy
Follow Eternal Press and Damnation Books on Twitter @eternalpress @damnationbooks or shop at our eBay Store eBay
http://www.ebay.com/usr/ep-dbbooks
Review Copies may be obtained by emailing
eternalpresspromotions@gmail.com
. Advanced Review Copies are also available for September 2015.
Get 50% off all Titles use code 61NF17DV2LEX at checkout at DamnationBooks.com and EternalPress.biz
Contact Sally Franklin Christie, Marketing Manager
eternalpresspromotions@gmail.com