The Official Global Launch of "Jesus Gone Viral-Acts 4:12 Day" and Free Outreach Concert
Jesus Gone Viral-Acts 4:12 is a vibrant project with many arms. It is launching an official Jesus Gone Viral-Acts 4:12 Day and Free Outreach Concert on August 28th, 2015. The project also carries a Christian apparel line. More information can be found at the website: www.jesusgoneviral.com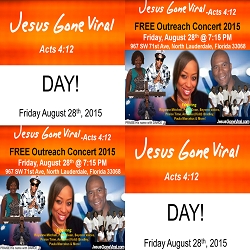 Fort Lauderdale, FL, August 19, 2015 --(
PR.com
)-- Mark and Kerone Grant present the official global launch of "Jesus Gone Viral-Acts 4:12 Day" and Free Outreach Concert scheduled for Friday August 28, 2015. On that day, the concert will commence at 7:15 P.M. The concert venue is 967 SW 71st Avenue, North Lauderdale, FL 33068.
Jesus Gone Viral-Acts 4:12 was founded by Mark and Kerone Grant upon the basis of the very scripture of Acts 4:12 that states that there is no other name under heaven by which anyone can be saved. In light of that profound statement, it is their passion to continue seeing the name and message of Jesus Christ get to the masses and that the hearts of those who follow Jesus will be ignited to share their faith with the world.
The Jesus Gone Viral-Acts 4:12 project is one of many arms. One of which is a Christian apparel line that can be found at www.JesusGoneViral.com. Some more phases of this project will be rolling out later in 2015. All the information on what this project is about, the Christian apparel line and some other up-coming projects can be found on their website: www.JesusGoneViral.com.
For addition information, details or to schedule an interview about this project or its upcoming events, please contact Mark or Kerone Grant at 954.826.4229 or send an email to info@jesusgoneviral.com.
Contact
Jesus Gone Viral
Mark and Kerone Grant
954-826-4229
www.jesusgoneviral.com

Contact