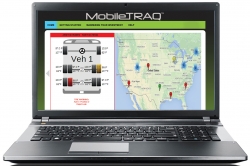 Solon, OH, August 26, 2015 --(
PR.com
)-- In-house research and development at Mobile Awareness, LLC has produced an advanced commercial tire monitoring and tracking system with capabilities for asset management in the trucking industry. Useful for any size fleet of trucks, the MobileTRAQ system collects and processes tire pressure and tire temperature information along with the GPS location. Data from vehicles across the fleet is uploaded to the cloud and is accessible via the MobileTRAQ website, providing management and maintenance staff with real-time actionable data to prevent field breakdowns.
The commercial tire tracking system starts with the TireStat® triple-mount sensor that can be screwed onto valve stems, mounted inside the tire, or attached directly to the inside of the tire. RFID enabled, the TPMS sensors allow for easy documentation and tracking throughout the life of the tire. On the road, TireStat sensors track changes in pressure and temperature every minute, detecting even a one tenth of a percent (0.1%) drop in PSI over the course of that time. The sensors relay this data to the MobileTRAQ Que or Vue unit, which processes and stores the data and is then sent to the cloud for real-time monitoring. The fleet manager is notified by text or email whenever tire pressure or temperature rises above or falls below user-designated levels. By contacting the driver in the field, a tire problem is addressed before it escalates to the point of tire failure.
By equipping trailers with MobileTRAQ Que units, fleet management has constant access to the tire pressure and GPS location of each asset. Even when a trailer is dropped in a lot and left unattended, the tire pressure monitoring system sensors identify slow leaks that would otherwise go undetected on stationary trailers. When the dispatcher or fleet manager logs into the website, they can see the pressure and temperature of every tire on a vehicle, combined with its specific location. Additionally, both warnings and alarms can be remotely configured on any asset for tire pressure and tire temperature.
Data compiled on the web can be collected and exported for any range of dates. The tire performance data can be used to evaluate different tire brands and anticipate maintenance needs. Comparisons between different routes, drivers, maintenance schedules, and other variables can also be analyzed. In addition to facilitating an improved CSA rating and better fuel efficiency, a tire pressure monitoring system can help prevent many of the blowouts that cause shipping delays and highway accidents. At Mobile Awareness, Reducing the Total Cost of Safety® is a top priority, as CEO Gary Rothstein explains, "The whole premise behind developing MobileTRAQ was to address the second highest fleet maintenance expense, tire management, with a complete and cost-effective turnkey solution."
About Mobile Awareness
Mobile Awareness, LLC is an Applied Technology company that designs, develops, and markets commercial vehicle safety products utilizing leading-edge sensor, computing, and communication technology. By focusing on loss prevention, accident avoidance, and asset management, we believe the cost to operate commercial vehicles can be considerably reduced. To learn more about Mobile Awareness, visit
www.mobileawareness.com
or contact Craig Conley at 866-653-5036.