Windgate Collection, Archive of More Than 400,000 Illustrations, Offered for Sale
The Windgate Collection, an archive of over 400,000 illustrations, is being offered for the first time. These images were all published between 1880 and 1924, "The Golden Age of Illustration." The collection represents the work of over 1,500 individual artists and is an important historical document. It would be an ideal acquisition for a stock media agency or a university, library or arts organization.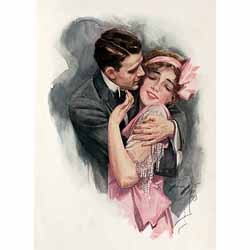 Sausalito, CA, December 07, 2007 --(
PR.com
)-- Creative Touchpoint, a marketing services firm for the art and photography industries, announced today that it has been retained by Windgate Press to sell the Windgate Collection, an archive of over 400,000 illustrations.
Illustrations in the Windgate Collection were all published between the 1880's and 1920s', the Golden Age of popular illustration. The pictures represent the work of over 1,500 individual illustrators and fine artists and the collection includes biographies and photographic portraits of many of them. The art covers a wide variety of subjects including religion, architecture, travel, politics, children, animals, the military, and scenes of everyday life.
"Rarely, if ever, does a collection as comprehensive as this become available," says Linda Bonnett of Windgate Press. "While we recognize the collection's potential as a stand-alone image bank, we are book publishers and have no desire to develop a stock agency or pursue large-scale licensing of the images. Therefore we have decided to offer the archive for sale."
Fewer than 1000 of the illustrations are digitized but the print pieces are very well organized. The images are gathered in folders or loosely bound in "books" so each image can be easily removed for scanning. Extensive information or complete articles about the subjects accompany many of the illustrations.
"This is a terrific opportunity for a company that is set up to monetize images such as a stock agency or decorative art dealer, as well as calendar and greeting card companies," says Jon Hornstein, Principal of Creative Touchpoint. "The collection is unique in its breadth and depth, and unlike much of today's stock imagery, it's not easy to replicate. In addition, the archive is an important historical source so it could also be of interest to libraries, universities, and arts organizations as a research tool. Many of the artists represented in the collection are otherwise lost to history."
Those interested in learning more about the collection should contact Jon Hornstein at 415-302-4313, or via email at jon@creativetouchpoint.com. A small sample of the images can been seen online at http://www.creativetouchpoint.com/windgate.
About Windgate Press
Windgate Press is a publisher of fine books and limited edition portfolios of high-quality facsimile prints and photographs. Their primary focus is San Francisco and California photographic history. More information is available at http://www.windgatepress.com
About Creative Touchpoint
Creative Touchpoint is a marketing services company for the art and photography industries. Services include image archive brokering and marketing consulting for photographers, reps and stock media agencies. More information is available at http://www.creativetouchpoint.com
###
Contact
Creative Touchpoint
Jon Hornstein
415-302-4313
www.creativetouchpoint.com

Contact