Anthology of Southern "Coming Out" Stories Debuts at AJC Decatur Book Festival
Panel of five of the 16 writers from "Crooked Letter" will be at the country's largest independent book festival in Decatur, GA on Sat., Sept. 5.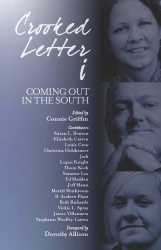 Montgomery, AL, September 01, 2015 --(
PR.com
)-- "Crooked Letter i," edited by Connie Griffin and with a foreword by Dorothy Allison, published by NewSouth Books, offers a collection of 16 first-person nonfiction narratives that reflect the distinct "coming out" experiences of a complex cross-section of gay, lesbian, and transgendered Southerners from all walks of life and at different stages in their lives.
The anthology will debut Saturday, Sept. 5, with a panel discussion of five of the authors at the AJC Decatur Book Festival. The session is 3-3:45 p.m. at Decatur City Hall and is presented by the City of Decatur. On the panel are contributors Susan L. Benton, Christina Holzhauser, Ed Madden, B. Andrew Plant, and James Villanueva. Plant will moderate the panel.
The experiences represented in Crooked Letter i pivots around a central theme—finding language to understand one's identity, and then discovering we were never the only ones. Revealing a vibrant cross-section of Southerners, the writers of these narratives have in common the experience of being Southern and different, but determined against all odds.
With family deeply rooted in Alabama, and thus a Southerner herself, Connie Griffin approaches these southern literary works with the compassionate eye of one who has lived the experience. Bringing more than 25 years of teaching English and American literature and creative writing, she recognizes and values the authenticity of voice and southern inflection she has found in these autobiographical essays.
Connie Griffin is a senior lecturer at the University of Massachusetts, Amherst, and the author of To Tell The Truth: Practice and Craft in Narrative Nonfiction. Dorothy Allison is an award-winning author whose novels include "Bastard Out of Carolina."
The contributors include Susan L. Benton, Elizabeth Craven, Louie Crew, Christina Holzhauser, Jack, Logan Knight, Thom Koch, Suzanne Lea, Ed Madden, Jeff Mann, Merril Mushroom, B. Andrew Plant, Beth Richards, Vickie L. Spray, James Villanueva, Stephanie Woolley-Larrea.
"Crooked Letter i" is available through your favorite local or online retailer, or from NewSouth Books, 334-834-3556,
www.newsouthbooks.com
. ISBN:978-1-58838-313-6. Trade paper with French flaps, 208 pages, $25.95. ebook ISBN: 978-1-60306-362-3
"In this remarkable collection of essays, these writers not only claim their rightful place in the landscape of letters but also the geography of juleps and cheese grits and our fundamentalist families." —Kevin Sessums, author of Mississippi Sissy
Contact
NewSouth Books
Drew Plant
404-634-7102
NewSouthBooks.com

Contact