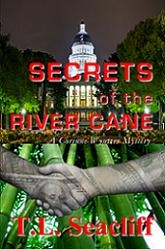 Los Angeles, CA, September 03, 2015 --(
PR.com
)-- The State of California spent millions of dollars to eradicate it from its clogged waterways; it has been analyzed and studied for use as a biomass in renewable fuels; in 2013 the United States Environmental Protection Agency (EPA) issued a Federal Regulatory Announcement and adopted certain requirements to effectively minimize the risk of crops behaving as invasive species when grown for biofuels; and historically it has and continues to be used today in woodwind musical instruments.
The subject of all of this controversy that has been going on for years is the invasive aquatic plant species known by its Scientific Name "Arundo Donax" and common name "Giant Reed."
It was just a matter of time before the controversial invasive plant species, Arundo Donax became the subject of a conspiracy depicted in a fictional novel. In what appears to be the first fictional novel surrounding the controversial subject, such a conspiracy is at the heart of "Secrets of the River Cane" by author T.L. Seacliff.
This fast paced thriller is as informative as it is entertaining. With an unpredictable storyline that is expertly written, research for the book that shines through in each and every descriptive detail, this novel is predicted to become a best seller.
Secrets of the River Cane, A Corinne Wynters Mystery by T.L. Seacliff was just released for sale September 1, 2015 worldwide on
Amazon.com
and Amazon's extended worldwide distribution channels in Paperback and Kindle editions.
http://www.tlseacliff.com