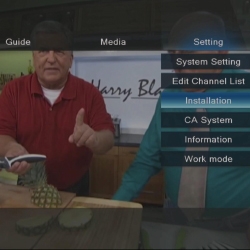 Taipei, Taiwan, September 09, 2015 --(
PR.com
)-- ALi Corporation, a leading Set-Top Box (STB) chipset solution provider, announced today it is collaborating with Adrenio to deploy new high definition set-top boxes in Switzerland. Adrenio is a professional digital TV solution provider and system integrator serving about 200 independent cable operators in Switzerland. The STB deployment will enable Swiss operators to offer cost effective HD STBs to end users.
The Adrenio set-top box is enabled with Conax Cardless conditional access based on ALi secure system-on-chip solution to provide robust protection for media content and operator revenue. Manufactured by KAON Media, a top R&D and manufacturing company in Korea focusing on developing digital connectivity devices, the modern and compact set-top box delivers design simplicity and cost reduction.
The Adrenio offering features an STB radio function enabling users to continue listening to radio without connecting a TV/screen to the STB.
"With the ALi SoC certified for Conax Cardless CAS, Adrenio is able to offer a very competitive High Definition STB to its clients," says Thomas Muehlehaler, CEO, Adrenio. "And with the Adrenio "radio" DVB function, we ensure continuous "radio" reception beyond the analogue FM switch-off via the same device, without the need of switching on the TV set."
"ALi has accumulated years of experience in developing pay-TV solutions targeting specific markets," says Tony Chang, General Manager of ALi's Broadcast and Broadband Media Business Unit. "The Adrenio STB with ALi SoC offers a competitive solution combining cost efficiency, advanced cardless security, and rich media features. Again it shows ALi's capabilities to collaborate with industry partners to deliver dedicated pay-TV solutions for different markets."
Demonstration of the Adrenio STB is available at the ALi suite, 2F #BM24, Hall 1, IBC 2015, from September 11 to 15 in Amsterdam.
About Adrenio
Adrenio GmbH is a professional digital TV system integrator operating in the Swiss market supporting all systems both large and small. Our end-to-end solutions guarantee full service to the operator. For more information, please visit www.adrenio.com.
About ALi Corporation
ALi Corporation is a leading innovator and developer in the set-top box (STB) system-on-chip (SoC) market. By fully leveraging its core expertise in the set-top box industry, ALi solutions are recognized for their high levels of integration, superior performance reliability, premier customer oriented service and compelling cost structure. Hundreds of Pay TV operators have adopted ALi's solutions worldwide. ALi Corporation was founded in 1987 with headquarters in Taipei, Taiwan, R&D centers as well as sales offices in Hsinchu, Beijing, Shanghai, Shenzhen, Zhuhai, Geneva, and Seoul, and technical support teams throughout Asia. For more information, please visit www.alitech.com.