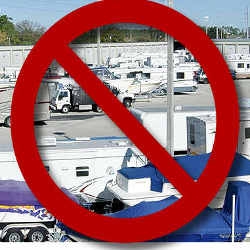 Irvine, CA, September 30, 2015 --(
PR.com
)-- What started as a temporary RV storage solution after the closure of the El Toro Marine Base in Orange County California, has morphed into the largest RV storage facility in the nation.
The RV Storage is being shuttered due to several reasons:
A strong environment for the construction of residential and commercial real estate, and the passage of Assembly Bill 1453 last year dedicating more than 100 acres of land for the construction of the Southern California Veterans Memorial Cemetery. All of which requires the RV's to go elsewhere.
Seems Orange County is home to many thousands of RV's all needing storage. Many cities do not allow RV parking on city streets, and homeowners associations are equally stingy on parking or storage of these behemoth vehicles, exacerbating an already difficult situation.
The open runways on the shuttered Marine base offered a perfect, inexpensive solution to the parking problem…until now.
The operator of the RV storage lot, and lot lessee, Flying Bull RV Storage posted a notice on their website stating that everyone must vacate by January 1st, 2016. They went on to write, "we don't expect to gain the capacity to accommodate all customers." That is the fundamental problem. Where will the RV's go?
Ted Deits, based on years of RV storage development standards, wrote:
"2200 RV's is a small city on the move. The problem is there are no new RV storage facilities in Orange County, and with land values within reach of two million an acre, doubtful any will be built. RV storage is not the highest and best use of land, mainly due to the tremendous area needed for the RV's to simply maneuver within the lot. Roughly 40% of the acreage is wasted on aisles wide enough to navigate a 40' or larger RV. Storage of 2200 RV's would take approximately 44 acres at 50 RV's per acre, a conservative estimate of eight-eight million dollars just to acquire the land, never mind the cost for development. Not going to happen." (rvstorage.biz, news section. loopnet.com)
Ted Deits, the developer of Eucalyptus at Beaumont, RV Storage Condominiums, said, "I have been following this situation for 10 years now. I knew it was coming, but no one was certain as to when the closure was going to occur." He continued, "Rates for RV storage are on the rise, and will continue with increasing demand and decreasing supply. It is simple supply and demand economics at play."
Has there been a notable change in the RV storage market? He replied, "Eucalyptus at Beaumont is made up of Storage Condominiums, where each garage is owned, not rented, so clients are insulated from such dramatic market shifts. We are sold out, with only a few private re sales available." He continued, "Yes the phone has been busy with inquiries, and a few of our resale units have multiple offers on them, but I have not felt or seen the panic set in yet." He continued, "It is obvious that remaining RV storage facilities will no doubt raise prices to capitalize on the increasing demand for RV storage."
A few calls to area RV storage lots yielded the soon to be familiar, no vacancy response. Orange County simply does not have the capacity for an exodus of this magnitude. Current Orange County RV owners will have to find alternate storage solutions. Where is anybody's guess.