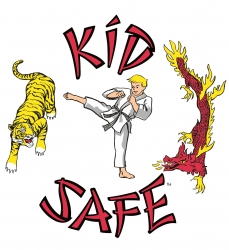 Queens, NY, October 01, 2015 --(
PR.com
)-- In a neatly arranged row of children, a six year old deftly blocks and counters every punch and kick to come his way. Alongside him, another child lets out a proud roar as she calls upon her training to deflect a serious of incoming blows away from herself. Further down the line, the rest of the children are calm and collected, exuding a confidence and discipline uncommon for children even twice their age.
All of these students train with Kidsafe Youth Programs, an after school program on Thursday afternoons at the Fairlawn American Legion, one of several Kidsafe locations spread throughout the Tri-State area. In October, Kidsafe will be opening a new location in the neighborhood of Forest Hills in Queens, New York.
"Coming from a traditional martial arts program to Kidsafe was a bit of an adjustment," says instructor James Furler, who has taught for Kidsafe since 2004. "Not having to worry about how many students I have has allowed me to focus on how my students learn. I have been able bring the martial arts to new heights as well as improve and adapt to the ever growing changes in society."
Those changes, particularly in the differences between western and eastern martial arts philosophies, was something Brian Gourlay, the founder and executive director, anticipated when he started the program.
"I wanted a program that could build up students' self-esteem and teach children the importance of conflict resolution without violence," says Gourlay. "We operate under the philosophy that teaching children how to handle a dangerous situation is more desirable than attempting to limit their interaction with others."
To that end, Kidsafe tries to teach students how to recognize potential danger and avoid unnecessary conflict. Likewise, students who are more knowledgeable about conflict situations will act more confidently and with a clear mind to make rational decisions under stressful situations.
In addition, Kidsafe focuses on a number of safety topics including how to deal with strangers, bully awareness, fire safety, home safety, and many other topics that are reinforced in the public school system. Classes are held in sessions ranging from eight to 13 weeks throughout the school year.
Kidsafe also offers scholarships to families facing financial hardships, and strives to never turn away children because they may not be able to afford the program. To that end, Kidsafe works all year long to find supporters for its scholarship program.
"I'm very proud that we're able to offer the classes to children who can't afford a traditional martial arts school," says Gourlay. "Getting children off the streets and providing them with a constructive after-school activity is important." Many parents have thanked him and his team for allowing their sons and daughters to participate and learn something productive.
Registration is ongoing in many locations. Registration information for the upcoming Queens classes can be gained by contacting Kidsafe by phone at (800) 850-0800 or through email by visiting their website at www.kidsafeyouthprograms.com