Professional Plastics, Inc. - Opens New Singapore Facility
Professional Plastics recently opened a new Singapore warehouse and distribution center to support their customers throughout Asia. The Singapore sales office and distribution center maintains a comprehensive inventory of plastic sheets, rods, tubing and films. Stock materials include: Torlon, Vespel, Meldin, Ultem, PEEK, Techtron PPS, Semitron ESd, Macor ceramic and more.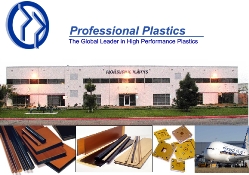 Singapore, Singapore, December 12, 2007 --(
PR.com
)-- Professional Plastics, Inc. (USA) has recently expanded into the SE Asia market with a full-service warehouse distribution facility and sales office in Singapore. The new company Professional Plastics, Pte Ltd., carries a complete product range of Plastic Sheets, Rods, Tubing and Films. Stock materials include: Torlon®, Vespel®, Rulon®, Turcite®, Meldin®, Ultem®, PEEK, Techtron® PPS, Semitron® ESd, Ertyalyte®, Macor® ceramic, polymide and more. The Singapore location is centrally located to serve customers throughout Asia including China and India.
The new facility features offers value-added coverting services such as precision cut-to-size blanks for machining. Professional Plastics has been in business since 1984, and maintains 13 service centers throughout the USA. The company offers the most extensive inventory of high-performance engineering stock shapes in the industry.
Professional Plastics has extensive market experience serving diverse industries such as: semiconductor, aerospace, petrochemical, food process, medical, heavy equipment and more. The Singapore location works closely with customers in the semiconductor test and disk drive industries, as well as wafer fabrication and IC production. The new location also provides technical and sourcing solutions for the aircraft and aerospace markets by utilizing the knowledge and experience gained through their long-term support relationships with companies such as Boeing, Lockheed, McDonnell Douglas, General Dynamics, Loral and others in the USA.
Customers will also benefit from the company's state of the art e-commerce website
www.professionalplastics.com
The website features material images, descriptions and data sheets on more than 1,000 products. The site also features engineering and material design recommendations based on industry, application, or performance criteria.
For more information contact:
Professional Plastics PTE, Ltd.
No. 4 Chin Bee Road
Singapore 619819
tel: +65 6266 6193
fax: +65 6266 6579
e-mail: asia-sales@proplas.com
www.professionalplastics.com.sg
###
Contact
Professional Plastics, Inc.
Chris Kietzke
858-637-2800
www.professionalplastics.com
+65 6266 6193 (Singapore)
E-Mail: asia-sales@proplas.com

Contact