Muscadine Grape Shows Promise in Fighting Breast Cancer
South Beach Wine donates their wine (made from Muscadine Grapes) towards the "Think Pink" masquerade ball Breast Cancer fundraiser on Friday, October 30th at Kitchen 305 in Sunny Isles Beach.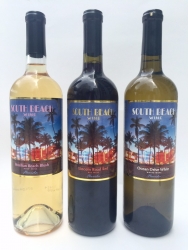 Miami, FL, October 08, 2015 --(
PR.com
)-- The Newport Beachside Hotel & Resort has partnered with the Young Survival Coalition (YSC), a non-profit dedicated to support and educate about breast cancer in younger women, to host its sixth annual "Think Pink" masquerade ball fundraiser on Friday, October 30th at Kitchen 305 in Sunny Isles Beach.
The "Pink and Black Masquerade" themed celebration will feature a pink carpet arrival into a star-studded event with special performances by J&G Entertainment, Red Eye View TV and International Star DJ Roberto Costa as well as costume contests, drag queen appearances, a high-end raffle and photo booth opportunities.
Starting at 7 p.m., guest of honor Linda Alesi will proceed over a four-course dinner at Kitchen 305. An 11-year cancer survivor, Alesi was diagnosed with stage two aggressive breast cancer when she was 45. This October, Alesi will participate in YSC's Tour de Pink, a three-day, 200-mile bike ride along the mid-Atlantic countryside of the East Coast, which raises funds for women in the fight against cancer.
South Beach Wine will be donating their popular wines during the event's ladies open bar hour. South Beach Wines come in three unique and distinct flavors - Brazilian Beach Blush, Lincoln Road Red and Ocean Drive White. South Beach Wine is made with the delicious Muscadine grape, which is native to Florida. This grape, bursting with flavor, is also said to be more nutritious than the average grape because it has more anti-oxidants. The Muscadine grape has been used in making wine in Florida, dating back to 16th century Spanish explorers.
October being National Breast Cancer Awareness Month, created a great opportunity for South Beach Wine to do their part in the fight for breast cancer. The US Department of Health and Human Services states that "the muscadine grape (Vitis rotundifolia) is distinct from the more common red grapes used to produce red wines, a major source of resveratrol. The chemical constituents of muscadine grapes differ from most other grape varieties, as they are richer in chemicals called anthocyanins. Anthocyanins, which produce the red and purple colors of the grapes, have strong antioxidant activity and have shown several antitumor effects, including inhibition of DNA synthesis in breast cancer cells, of blood vessel growth in some tumors, and of enzymes involved in tumor spread."
So let's all come out and support this worthwhile cause, do a little wine tasting and raise our glasses to those brave women who are facing and have faced the battle against breast cancer.
Contact
South Beach Wine
Steve Karski
786-347-6300
http://southbeachwine.com/

Contact