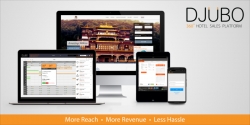 New Delhi, India, October 16, 2015 --(
PR.com
)-- DJUBO, a hotel sales management platform, was awarded the "Most Innovative Product", at both Mumbai and Pune, Travel and Tourism Fair 2015.
The startup has recently, also received Series A funding from Naspers, the South African internet and e-commerce giant, already an investor in other big brands in India such as Flipkart, Goibibo and Red Bus.
DJUBO is a new age cloud-based hotel sales management software, launched earlier this year in India, to help simplify hotel inventory distribution and management on online and offline channels. It offers innovative features, such as mobile app to manage hotels, to help small and upper-mid segment hotels to help hoteliers maximize revenue in the growing competitiveness of the global travel accommodation market. It integrates into its sales platform an
online hotel CRS (Centralized Reservation System)
with a proprietary online hotel booking engine and an auto-sync hotel channel manager. The aggressively competitive pricing plan fits the needs of every size of accommodation provider, from small boutique hotels, bed and breakfasts, hostels, to large hotel chains.
Currently hotels using the DJUBO hotel sales platform include popular hotel chains in India such as V Resorts, Una Hotels, Summit Hotels & Resorts, Leisure Hotels & Resorts along with a delectable roster of independent hotels and BnBs, such as Colonel's Retreat, New Delhi, Hotel Grand Imperial, Agra and Hotel Ganga Kinare, Uttrakhand among many others.
Co-founder, Tarun Gulati, says, "Our intention with DJUBO was to simplify room inventory distribution and sales for hotels, especially the smaller ones, which despite huge potential have a hard time getting reservations, simply because of the inability to use expensive sales automation software. With DJUBO hotels can leave the cumbersome repetitive sales tasks to be run in an optimized manner and focus on building better marketing strategies to push direct sales and improve guest satisfaction. It is heartening to see that our efforts are being supported and embraced by the hotelier community."
About DJUBO:
DJUBO is a complete room sales management platform for hotels and travel accommodation providers of every size. It integrates an online booking engine with a hotel channel manager into a centralized reservation system, based completely in the cloud. Combined with key features such as coordination between the sales desk and the front office, automation of document generation, pre-arrival messages to guests, daily sales reports, DJUBO allows every hotel, big or small, to maximize their reach online, manage and distribute their room inventory efficiently and help maximize revenues.
About TTF:
TTF is India's leading travel trade show network. Started in 1989, TTF covers eleven top domestic and outbound tourism markets of India – Mumbai, New Delhi, Kolkata, Chennai, Bangalore, Hyderabad, Ahmedabad, Surat, Pune, Guwahati and Goa. With a visitorship of over 186,000 and more than 2,500 exhibitors from 76 countries and 36 Indian states and UTs, TTF is the most trusted market leader in India.
TTF is dedicated to following the globe's latest travel and tourism trends, with a focus on serving the needs of its extensive B2B clientele. TTF presents an unparalleled marketing opportunity for exhibitors and is the best place for networking, face-to-face meetings, striking the deals of the future and building successful, steady business partnerships.