Watch and Talk with Chefs Live on Christmas - ChefsLine Launches Live Stream Holiday Show
ChefsLine launches the first ever live, on-demand cooking show this Holiday season with its interactive web stream show, Real Time Recipes.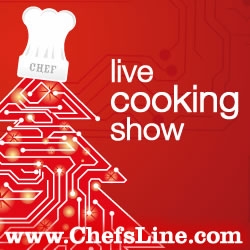 New York, NY, December 13, 2007 --(
PR.com
)-- ChefsLine, a company at the forefront of bringing home cooks together with top chefs through the use of interactive technologies is hosting its Real Time Recipes Holiday Show from December 24-25. The broadcast is the first of its kind and gives cooks worldwide the chance to communicate live with celebrity chefs as they prepare their holiday dishes. To participate in a press-only screening on December 19 from 2 pm - 4 pm est, contact ChefsLine at media@chefsline.com. All others, just visit www.ChefsLine.com on December 23rd at 11am est to start discussing your Holiday dinner plans live with ChefsLine chefs.
The Real Time Recipes show includes over 16 hours of Internet programming that focuses on Holiday cooking and entertaining topics with Los Angeles Chef JoAnna Minneci and ChefsLine's team of top chefs. In each 30 minute segment, Chef JoAnna will present useful cooking tips, demonstrate time-saving techniques for the most popular Holiday dishes, and respond in real-time to viewers' requests for recipes and cooking help. Website viewers on www.ChefsLine.com are invited to call-in to the program to speak live with the chefs and audience or to chat online with ChefsLine chefs for live, on-demand cooking help.
Chef JoAnna and Jennifer Beisser, ChefsLine's CEO have teamed up to bring exciting live cooking experiences to home cooks over the web using the latest available technology. Says Chef JoAnna, "I chat with home cooks online, discuss my no-nonsense approach to cooking on my radio show, Cuisine Connection, and teach cooking classes in person in Los Angeles. Although I've appeared on cable and network TV, it's one-sided. The Real Time Recipes show is interactive, streaming live on the Internet. ChefsLine is an obvious partner and I'm thrilled to host the Real Time Recipes show." For Jennifer, this broadcast is a long time coming. She says, "ChefsLine is committed to empowering home cooks - and that means providing busy people with expert support and advice on-demand. By streaming our cooking advice and demonstrations online, we can give an even bigger audience the personalized service and encouragement they need to cook better, more creative and healthier meals."
ChefsLine's flagship service, the culinary hotline, has delivered on-demand emergency cooking help and menu planning consultations to more than 3,000 home cooks since its launch last year. "We speak everyday to real home cooks who are struggling with everything from reading a recipe, to what to prepare for dinner with ingredients on hand, to dishes that are too salty or just not right," says Jennifer Beisser, CEO. "With the Real-Time Recipes Show, we can now place ourselves live, right into our viewers' home kitchens and give personalized visual instruction through the use of interactive broadband technology."
About ChefsLine
ChefsLine's website viewers also have access to an entire program of ongoing support and cooking resources through ChefsLine. ChefsLine gives on-demand, expert help by phone and online when members are shopping, planning a meal, or in the midst of a cooking crisis and need quick, easy solutions. ChefsLine.com is a popular website featuring exclusive chef recipes, menus, and cooking videos. The website is also a portal to other interactive tools connecting home cooks to great chefs including LiveChef Chat and Click to Call a Chef. ChefsLine members form close bonds with the company's twenty five chef consultants, who are often touted as "the personal trainers of the home kitchen." ChefsLine has been featured on the CBS Early Show, Cooking Light Magazine, Wall Street Journal, and in numerous lifestyle and food publications. The Real-Time Recipes Show is a kick off of ChefsLine's Live Broadcast Cooking School. Beginning in January 2008, ChefsLine's Cooking School will bring its home cooks together live with celebrity chefs for cooking their dishes live, over the Internet, while home cooks cook along and ask questions via online chat and by phone.
###
Contact
Chefs Line, Inc.
Jennifer Beisser
646-337-9327
www.chefsline.com

Contact