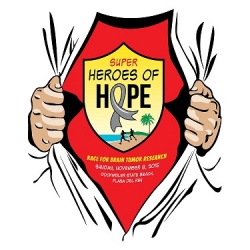 Los Angeles, CA, October 26, 2015 --(
PR.com
)-- Two schools in Los Angeles, UCLA and USC, have a longstanding rivalry on the field, but on November 8, 2015 both schools will unite off the field in the name of hope for a cure for brain tumors. The 8th Annual Heroes of Hope Race for Brain Tumor Research will be held at Dockwieler State Beach on Sunday, November 8, 2015. The event brings together schools and teams from all over the Southern California area and raises funds for cutting edge brain tumor research. Funds raised stay in Los Angeles funding UCLA, Children's Hospital Los Angeles, USC Keck School of Medicine and Cedars-Sinai brain tumor research.
Doctors, researchers, nurses, caregivers, patients, cancer survivors and their families, along with celebrities will be in attendance and will all unite in the fight against brain tumors. The coveted Rivals United in Hope Cup (RUH) will be awarded to the Largest Team, the Top Fundraising Team and the Top School. Last year, there was a tie for the Top School trophy, with USC and UCLA both taking home the cup. In prior years the cup has gone to UCLA.
The rivalry between the two schools is no secret but this day is one of unification. Dr. Linda Liau, Professor and Director of the UCLA Brain Tumor Program said "Through the Heroes for Hope Race each year, all of us in the Los Angeles brain tumor community (Bruins and Trojans alike) set our school rivalries aside and join forces for a fun day of camaraderie and hope, as we raise awareness and funds for a shared common goal — to find a cure to brain cancer. It is truly a day in which we all find purpose beyond self."
Similar sentiment is heard from the USC team. "Though our longstanding traditions may be quite different and the rivalry between USC/CHLA and UCLA incites the passions of football fans and alumni alike, we scientists unite under the common goal of solving the mystery behind brain tumors and advancing treatments made possible by research," stated Anat Epstein, MD, PhD, Associate Professor of Pediatrics and Pathology at Children's Hospital Los Angeles and co-captain of Team CHLA. "When you look into the eyes of a child diagnosed with a brain tumor and that of his/her parents, you don't see cardinal and gold or blue and yellow; you just see a need to embrace hope and push for a cure," added Shahab Asgharzadeh, MD, Associate Professor of Pediatrics at Children's Hospital Los Angeles and co-captain of Team CHLA.
Thousands will gather to participate in the 5k/10k, Kids Fun Run and new iDance4aCURE event while raising funds for brain tumors, the leading cause of solid tumor death in children and men under the age of 40. The event is organized by the Brad Kaminsky Foundation. Brad passed away from brain cancer in 2001. For more information, to register, start a team and/or to join Team UCLA or Team CHLA-USC Neuro Oncology visit
www.heroesofhoperace.org
or email Lisa@tbkf.org.