The Holiday Gift for the Pet Who Has Everything
Pulsed magnetic fields provide strong anti-aging effects while enhancing physical performance in older pets where trauma, arthritis or age related joint deformity has resulted in chronic pain, loss of mobility and subsequent changes in behavior.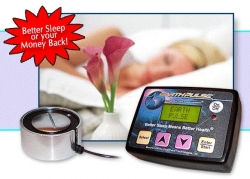 Bangalore, India, December 14, 2007 --(
PR.com
)-- The world's first Delta-rhythm pulsed magnetic system called EarthPulse Sleep on Command™ isn't just a remarkable technology to enhance sleep, longevity, strength and stamina in human beings. Clients routinely report rapid mobility and behavioral changes in their older pets.
Ideally, owners with pets use the device under their mattress during the night in either of two Sleep-Modes to enhance their deep sleep and physiological recovery; then in morning restarted the device in Recover-Mode so the pet may come and go in the field all day as they see fit. Paul F. Becker the product's developer said that "Pets recognize these ultra-low-frequency pulsating magnetic fields as a healthy benefit to them and so they seek them out."
According to a recent Harris Interactive poll 59% of U.S. households currently have at least one pet, owners will spend over $40 Billion on their pets this year with over $24 Billion of that spent on taking them to the veterinarian. Pets who sleep on their master's bed (about 70% of US pets) either at night or during the day are able to reap the same rewards from EarthPulse™ as their owners do including enhanced saturated blood oxygen, improved recovery and more strength and stamina.
Where the pet doesn't sleep on master's bed, EarthPulse™ is small and portable so it can be easily moved to where they spend the most time during the day until the pet's mobility is restored. The technology is extremely reliable and is as easy as turning on Recover-Mode, setting the timer and placing the hockey puck sized inductor electromagnet under their pet's cushion or bedding.
In 2001 the company had its first experience improving pet mobility with a 12 y.o. severely arthritic cat that could barely stretch and walked with substantial difficulty. When Becker asked if he could put a device in its bed, the owner explained that it spent very little time in its bed anymore but that he could try. Subsequently, the cat spent nearly all of the following week sleeping in its bed and was stretching out completely in 5 days. In 10 days the cat was jumping onto the dining room table. According to the owner the cat hadn't been on the table for 2-3 years.
Last year, Sadie, a four-year-old Dachshund was paralyzed, and had spinal surgery. According to the surgeon her chance of walking again was 50-50. EarthPulse™ was put under her crate. If the timer ran out she whined until it was turned back on again, at which point she would rest and sleep. At Sadie's 2 month re-check the vet said, "I had planned to give you info on wheels for her, but this dog does not need wheels." Sadie was hopping around with her back legs, even though she was "paralyzed". Today, seven months later, Sadie walks, runs, and wags a tail she can't feel.
In October '07, a sleep specialist working with the company on a study to be published on sleep enhancement reported his 6 y.o. English bull dog (that sleeps in bed with him) plagued by an intermittent limp in his right hind leg whenever it ran at all, is now running like he did when he was a year or two old with no residual limp. There are more pet owners testimonials on the Client Feedback page.
Becker elaborated, "Pound for pound, my girlfriend's 5 lb – 13 y.o. Yorkie-Maltese has had more pulsed magnetic field exposure than any other being on the planet. During the past 6 years, she's had her own device on the couch during the day in Recover-Mode; and over the past year has had one in her bed at night in Sleep-Mode. She's 5 lbs and has been sleeping 1-2 inches away from the full strength inductor coil for 6 years, at least 8 hours per day. Pound for pound, that's 100's of times the exposure I've gotten since inventing this product. At 7 y.o. her eye's had already begun getting cloudy. Now at 13 y.o. her eye's are jett black, she still plays with her food, can jump 3 times her shoulder height to get onto furniture and still runs for the sheer joy of it. After a neck injury this past summer that prohibited her chewing and barely allowed her to drink, we used the EP on her 24/7 and within a couple of weeks she was as good as new. Even post-injury, there isn't another dog her age that is as rambunctious or as fast as she is."
To see how young Gizmo the 13 y.o. dog acts and get a coupon code for free international shipping, open the file attachment below.
Becker concluded, "When my device is put in proximity to an affected body for 8 or more hours per day, remarkable changes can manifest themselves and usually do. I urge anyone with a pet, especially those that are disabled by joint deformity, arthritis or trauma to purchase a device so they may use it themselves for better sleep and better health, and so they may share it with their pet to extend the years they'll have to enjoy each other. This is the only health technology in the world that is as good on pets as it is for their owners."
Older pets' physical abilities and attitudes are virtually guaranteed to improve or the device may be returned within 90 days for full refund. EarthPulse™ is small, portable and 1/3rd the price of other full function electromagnetic technologies.
Sleep on Command™ is not to be recommended as a drug or as a diagnosis for any illness or disease condition; nor as a product to eliminate disease or other medical conditions. The information contained herein has not been evaluated by U.S. Food and Drug Administration or by any governmental health agencies. EarthPulse™ Technologies, LLC makes no medical claims as to benefit of its device and methods. Sleep on Command™ is strictly a performance enhancement tool virtually guaranteed to improve sleep and physical & mental performance or money back. Video testimonials/case studies, client feedback forms, information found and opinions expressed herein and on our websites are never to be construed as medical advice.
About EarthPulse™ Technologies:
EarthPulse™ Technologies, LLC is a privately held biotechnology and life sciences company specializing in the field of natural sleep and performance enhancement. The Sleep on Command™ system promotes deeper sleep and enhanced physical and mental performance. Clients range from 16 year old top ranked Girls Junior Tennis players, to men and woman well into their 90's; from professional golfers and world champion swimmers, to UFC champions and military Special Forces. The company develops and manufactures in Bangalore, India and has thousands of satisfied clients in 19 countries.
###
Contact
EarthPulse Technologies, LLC
Paul F. Becker, Esq.
+1 772 408 6100
www.earthpulsetechnologies.com

Contact