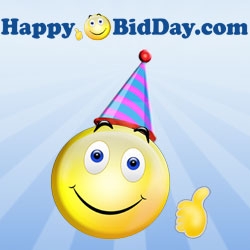 Newark, DE, November 02, 2015 --(
PR.com
)-- Praising five years in business and proving to be a solid business, HappyBidDay is one of the industry's leading penny auction sites. Straightforward business practices, state of the art products, timely shipping and supportive customer service are just a few standards HappyBidDay takes pride in.
Their dedication to maintaining fair business practices and a loyal customer base is what HappyBidDay CEO, Lisa Dee attributes to their long running triumph.
HappyBidDay teaches their customers – clearly explaining with video tutorials how to buy bids, place bids, and develop a strategy to play & win in their online auction design. They were also among the very first and only penny auctions to offer a free-play format, their own branded Happy Auctions. And, they were also one of the originals to introduce "Buy It," a risk-free auction style that allows bidders to receive their bids back and buy the item at retail if they don't come out as a winner when the auction ends. These features quickly distinguished HappyBidDay as a pioneer in the penny auction circuit.
They are consistently advancing and endeavoring to deliver bidders with the ultimate bidding experience. Just this year, HappyBidDay, has introduced Rookie Auctions, staying on the cutting edge of Penny Auctions. Appealing to even the most novice auction seeker, Rookie Auctions limit competition to users with only two wins or less. This allows more opportunity to learn and play against bidders of the same level.
HappyBidDay Turns 5 event will last the first two weeks of November and will showcase several special discounts for their customers:
· Free bids
· Price freezes on select auctions
· 5000 bid pack auctions – First Time Ever
· Free-To-Bid Happy Auctions will feature higher valued products
· Reserve Auctions, $15 or less
· And more