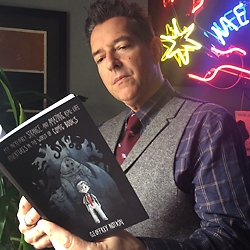 Tucson, AZ, October 29, 2015 --(
PR.com
)-- Before he was known to millions of viewers worldwide as an Emmy Award-winning television personality and half of the globe-trotting, space rock-hunting duo "Meteorite Men," Geoffrey Notkin was a cartoonist.
A comic book fan from childhood, Notkin pursued his passion professionally as a young adult in New York in the 1980s. After graduating from the acclaimed School of Visual Arts, he remained in Manhattan and found employment in the global epicenter of the comics and publishing industries.
"My Incredibly Strange and Amazing Real-Life Adventures in the World of Comic Books" is a sometimes hilarious, sometimes profound memoir of Notkin's life and times during the Bronze Age of Comics.
Through an astonishing and almost unbelievable series of coincidences, he befriended and worked with some of the greatest comic book creators of the last hundred years, including Neil Gaiman, Will Eisner, Harvey Kurtzman, Art Spiegelman, and many others.
Notkin's first job after college was at RAW Books and Graphics, where he worked for owners Art Spiegelman and Françoise Mouly. He was a production assistant on the graphic novel "Maus," for which Spiegelman won the Pulitzer Prize.
Spiegelman was also the co-creator of the Garbage Pail Kids trading cards, and based the now iconic "Deaf Geoff" card on Geoff Notkin himself.
"From childhood, during my New York City publishing career, and all the way through 'Meteorite Men,' comics have been a driving force in my life," said Notkin. "The friendships I formed with these Titans of the comic book world had a profound effect on my professional life, and the episodes recounted in this new book number among my strangest and most amusing adventures."
An initial print run of "My Incredibly Strange and Amazing Real-Life Adventures in the World of Comic Books" will consist of just 250 personally signed and numbered copies, with an exclusive tipped-in color panel.
This special limited handcrafted edition will be published on October 31, 2015. Orders are now being accepted at http://www.geoffnotkin.com/books or by calling 888 SKY ROXX.
The #1/250 signed copy of the book will be up for auction on eBay. Visit http://stores.ebay.com/Aerolite-Meteorites on October 31, when the auction will begin.
In addition, a launch party for the book will be held at TusCon 42, Tucson's annual sci-fi, fantasy and horror convention, where Notkin is appearing as a Special Guest. The book launch will be held during an autograph session on Saturday, October 31, at 4 pm local time, at Hotel Tucson City Center, 475 N Granada Avenue, Tucson, Arizona.
Just released on YouTube is a short video featuring Geoff Notkin entitled, "The Making of My Incredibly Strange Life." See the video now at: https://youtu.be/O_qifuZ0LaQ
Advance copies of the book are available for reviewers and media outlets. Media wishing to request a review copy, schedule an interview with Geoff Notkin, or book him as a speaker, are asked to contact Becca Gladden, Director of Public Relations, at pr@aerolite.org or (623) 210-6554.
Source: Aerolite Meteorite Public Relations
About Geoffrey Notkin: A television host, professional meteorite hunter, science writer, and photographer, Notkin is President of Aerolite Meteorites, Inc., the world's largest commercial meteorite company. He starred for three seasons on Science Channel's award-winning TV show "Meteorite Men" and hosted the Emmy-winning educational TV series "STEM Journals" for Cox Media.
He has also made documentaries for National Geographic, Discovery, PBS, BBC, History Channel, A&E, and Travel Channel. Notkin has written more than 150 published articles on meteoritics, paleontology, adventure travel, history, and the arts, and is the author of three books.
The minor planet 132904, discovered at Mount Palomar, was named "Notkin" and approved by the Minor Planet Center in recognition of Geoff's contributions to science and education.